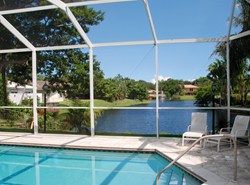 Venetian's permitting experts are adept at dealing with municipal officials and homeowners associations.
Miami, FL (PRWEB) August 07, 2013
Increased sales volume for Venetian Builders, Inc., of Weston screen patio enclosures and screen pool enclosures in the first half of 2013 reflect the company's work with homeowners and permitting officials to speed construction without sacrificing quality, Venetian President Chris Noe said today.
"Meeting the needs of individual homeowners is a priority," Noe said. "We use our custom design skills to create additional indoor space and outdoor rooms that meet the homeowner's needs and budget, and satisfy or exceed the concerns of permitting officials. That saves time and cost."
Venetian's permitting experts are adept at dealing with municipal officials and homeowners associations, Noe said. "That's important in Weston, where more than 100 homeowners associations, plus property management companies, are registered with the city," he said.
Venetian builds to meet or surpass the Florida Building Code, including its strict regulations for high-wind areas, such as along lakes, ponds, canals, parks and golf courses, Noe said.
"We use the proper mesh to keep out whatever insects are prevalent, including Noseeums," Noe said. "We also make screen enclosures strong enough to keep out errant golf balls, which can reach dangerous speeds, even on the bounce."
According to Sports Illustrated's Golf.com, golf balls driven off a tee can reach 160 miles per hour.
In building pool enclosures, patio enclosures and sunrooms, Venetian uses columns and beams with heavier-gauge aluminum that, although it may not look different to the casual observer, provides extra strength compared with lighter-gauge aluminum. That means better protection against strong winds.
The firm also helps homeowners match the look of their home, outside and in, with its sun room and screen room additions.
Venetian's 2013 marketing campaign includes retail sales displays in 41 South Florida Home Depots that have increased awareness and sales leads, Noe said. Sales volume this year is on pace to exceed 2012 levels by 150 percent, Noe said. Venetian designs and builds its quality custom sunroom additions, patio covers, patio roofs and pool screens in Palm Beach, Broward and Miami-Dade counties, and in the Keys.
Detailed, written estimates are free. A no-cost, at-home visit by an estimator includes a curbside visit by the Venetian mobile showroom, with life-size aluminum framing, wall and roof panels, windows, doors, screen and other design elements.
For more information, call 866-596-2427.