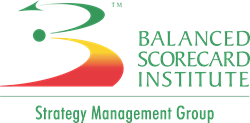 Cary, NC (PRWEB) August 08, 2013
The Institute and the College, having partnered for almost a decade, expand upon their existing Balanced Scorecard Professional (BSP) and Balanced Scorecard Master Professional (BSMP) certifications with the PuMP® program, which focuses on more advanced performance measurement development and analysis. Several PuMP® workshops have been held across North America and more offerings will be held this year and in 2014. This certification is the only program of its kind in the world.
Stacey Barr, a world-renowned performance measurement specialist based in Australia, observes that most people—whether executives, managers, strategy or performance professionals—struggle to do performance measurement well. They tend to look for the easy things to measure, and are usually disappointed by the results. She established the PuMP® methodology and workshop to help others learn how to break all of the bad habits that most managers and analysts have that are causing the poor results.
The certification can be earned by taking a 2-day course and then passing an exam. The course is designed to help participants get true buy-in to performance measurement, align measures to strategy and use measures to drive improvement to reach targets.
Participants in the program learn how to:

Make their strategy measurable and easier to communicate and cascade
Select and design performance measures that are far more meaningful than brainstorming or benchmarking can produce
Get buy-in from staff and stakeholders to enthusiastically own performance measurement and improvement
Bring their measures to life in a consistent way, using the right data and with the right ownership
Design insightful and actionable reports and dashboards that focus discussion on improvement
Clearly see the real signals from their measures about whether performance is improving or not
Convincingly hit performance targets, and make measurement about transformation, not about blame!
The program will be taught in the U.S. by David Wilsey, the Institute's Vice President for Education and Technology.
The Institute and the College are the ideal partnership to expand the PuMP® program into North America. BSI applies best practices gained from hundreds of consulting assignments and thousands of trainees in performance management and measurement, balanced scorecard, strategic planning, and change management to help executives, managers and analysts transform their organizations into "performance excellence" organizations. Together the Institute and the College have certified over 1400 BSP/BSMPs in over 70 countries worldwide.
For more about the PuMP® Certification or other certifications that the Institute and the University offer, please visit http://www.balancedscorecard.org .
About the Balanced Scorecard Institute (BSI):
The Balanced Scorecard Institute, a Strategy Management Group Company, provides strategic planning, balanced scorecard, and performance management training, certification, and consulting services to government, nonprofit, and commercial organizations. Services include public and on-site courses, facilitation and consulting services, and information and tools used by executives, managers and analysts to transform their organizations into "performance excellence" organizations.
BSI's website, http://www.balancedscorecard.org, is a leading resource for information, ideas and best practices on strategic planning and management, performance measurement, and balanced scorecard systems. BSI's Nine Steps to Success™ balanced scorecard framework integrates strategic planning, budgeting, operational planning, performance measurement and strategy execution into a practical disciplined framework for helping organizations achieve higher levels of performance.