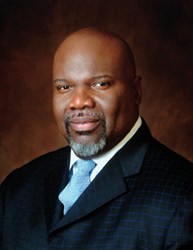 (PRWEB) August 06, 2013
It's a very special week at Trinity Broadcasting Network, the world's largest religious network and America's most-watched faith channel, as TBN's signature "Praise the Lord" nightly talk show welcomes two giants of gospel ministry and music.
On Wednesday August 7, "Praise the Lord" will be hosted by one of the nation's most inspirational and influential Christian leaders, Bishop T.D. Jakes, pastor of the 30,000-member Potter's House church in Dallas, Texas. Named "America's Best Preacher" by Time magazine and ranked one of the nation's most influential African-Americans, Bishop Jakes is a New York Times best-selling author who has been profiled in such diverse publications as Forbes, the Washington Post, and Ebony magazine. With a message of hope that transcends the boundaries of culture and religion, Bishop Jakes serves as a spiritual counselor to individuals from every social, political, economic, and faith sector. His popular ministry and teaching program "The Potter's Touch" is seen on TBN and the Church Channel.
Bishop Jakes' guests on "Praise the Lord" from TBN's Dallas studio will include pastor and gospel singer Dewey Smith; noted youth minister Chris Durso; inspirational speaker and author Dr. Jasmin Sculark; Pastor Sheryl Brady of the Potter's House; and popular gospel recording artists James Fortune and Kierra Sheard.
On Thursday August 8, "Praise the Lord" will feature a special in-person tribute to one of America's most beloved gospel singers and songwriters, Andraé Crouch. Dubbed the "Father of Modern Gospel Music," Mr. Crouch first took the music world by storm in the 1960s and '70s with a string of gospel hits that have since become classics recorded by hundreds of artists — including "Through It All," "My Tribute," "I've Got Confidence," and "The Blood Will Never Lose Its Power."
One of the first gospel artists to successfully cross over to a secular audience, Andraé Crouch appeared several times on The Tonight Show Starring Johnny Carson, and throughout his 50-plus year stellar career has performed in such venues as Carnegie Hall and the Hollywood Bowl, as well as in nearly 70 nations. As a producer and arranger, he has worked with such legendary artists as Michael Jackson, Quincy Jones, Diana Ross, and Elton John, and his work has been included in such films as "The Color Purple," "The Lion King," and "Free Willy."
Hosted by Grammy-nominated contemporary Christian recording artist Carman, this special "Praise the Lord" Tribute to Andraé Crouch from TBN's Los Angeles studio will include appearances by Mr. Crouch's sister and award-winning gospel artist Sandra Crouch; noted evangelist Nicky Cruz, whose dramatic story is told in Dave Wilkerson's The Cross and the Switchblade; and Christian recording artists the Archers, who helped to popularize many of Andraé Crouch's songs throughout the 1970s and '80s.
Both of these special "Praise the Lord" programs will be broadcast at 7 p.m. Eastern Time (9 p.m. Central, 10 p.m. Eastern) on Trinity Broadcasting Network. Following their broadcast, the programs will also be available via on-demand video at TBN's online broadcast site iTBN.org.
To find out more about the 26 (and growing) members of the Trinity Broadcasting Family of Networks, visit us online at tbn.org.