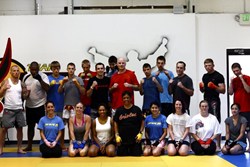 "I move a lot more than the typical boxer and Coach Bert has taught me how to capitalize on that."

- Peter Petties, Crazy 88 Fighter
Baltimore, MD (PRWEB) August 07, 2013
On August 14, Dutch Kickboxing Coach, Eibert Beugelink will return to Crazy 88 Brazilian Jiu-Jitsu to host a seminar based on the Dutch kickboxing system.
Originating in the Netherlands, the Dutch kickboxing system emphasizes Western boxing and low kicks.
Coach Bert first began training 35 years ago under Fred Royers at Mejiro Gym Arnhem. Kickboxing Arnhem (KBA) is one of the top gyms in the Netherlands and has produced fighters in the WKA, PKA, K-1 and other international events.
Eibert has coached many of these fighters and UFC fighter Mike "The Hulk" Easton and James Vick. In the last few years has began coaching fighters from Crazy 88 BJJ.
Annual seminars have been held for the last several years at the Crazy 88 headquarters to help integrate the Dutch system into the current Muay Thai system. This year, in addition to hosting a seminar, Coach Bert has been working one-on-one with two of Crazy 88's rising competitors, Peter Petties and Keeman Diop.
Coming off of a recent training trip to Thailand, Peter said "My overall striking style is boxing based and the Dutch style compliments that perfectly. I move a lot more than the typical boxer and Coach Bert has taught me how to capitalize on that."
To learn more about Crazy 88 and the seminars hosted visit http://www.Crazy88BJJ.com or call (443) 283-1450.