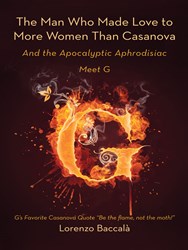 Simply put, sex is life fire: It can warm up your home or burn it down.
New York, NY (PRWEB) August 08, 2013
Move over, Casanova. You've been outdone.
In The Man Who Made Love to More Women than Casanova, author Lorenzo Baccalà interviews this prolific lover, who has chosen to protect his identity with the pseudonym "G". Feeling that not enough people know about the art, science and medical aspects of keeping a woman satisfied, Baccalà shares his interview with G, explaining his lifetime of experience so readers can enhance their own knowledge without needing to make love to 300 women themselves.
Baccalà, a physician and social philosopher, ponders the impact of sex, both on individuals and on life in general.
"The sexual revolution permeates every sector of American life, but unlike learning the rules of golf or chess, there is precious little written on the mental and physical details of sex," says Baccalà. "My book sheds light on these issues through the experience of G."
Often humorous and always informative, the book serves as a practical sexual manual. From unbelievable antics across countries and cultures to broad discoveries, Baccalà, through G's extensive experience, guides readers to a greater level of sexual literacy, from individual situations to general techniques.
"Simply put, sex is like fire: it can warm up your home or burn it down," says Baccalà.
The Man Who Made Love to More Women than Casanova: And the Apocalyptic Aphrodisiac
By Lorenzo Baccalà
ISBN: 978-1-4817-4385-3
Paperback: $15.08
Kindle: $3.99
Available at http://www.amazon.com and http://www.barnesandnoble.com.
About the Author
Lorenzo Baccalà is not only a physician, but also a social philosopher who ponders the impact of sex on both individuals and the world at large. He has met with numerous situations and has observed the medical and social repercussions of the sexual revolution across several generations.