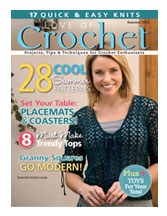 HASBROUCK HEIGHTS, NJ (PRWEB) August 07, 2013
Love of Crochet is the best source for crochet enthusiasts to find today's most inviting and beautiful designs. Every issue offers thoughtful and engaging patterns for women, men, children's garments, as well as home decorative items, accessories, and more. Love of Crochet provides useful how-tos and easily understood instructions to guide readers seamlessly throughout each project. Each issue offers innovative ideas and timesaving techniques for all skill levels.
Creative Crafts Group also publishes the following magazine titles:
Creating Keepsakes Scrapbook
Creative Machine Embroidery
Love of Knitting
McCall's Quick Quilts
McCall's Quilting
Paper Crafts
Quilter's Newsletter
Quiltmaker
Sew News
For more information and detailed recommendations please contact: Amy Lyons at 603-431-2873 or email amylyo(at)sms-inc(dot)com.
About SMS Marketing Services:
SMS Marketing Services, Inc. is a data-driven, multi-channel marketing solutions company providing world-class services across all the verticals in the marketing industry. SMS drives a wide range of services across channels including direct mail, email, mobile, display, and social media. Delivering authentic brand experiences that drive loyalty and employs customer connections through a deep understanding of customer behaviors is the strength of this company. Leveraging data-driven strategies to innovate, compete, and capture value from deep and up-to-real-time information, SMS's data solutions of highly segmented marketing databases help refine the search for consumers who engage with brands. A leading provider of direct marketing lists—including SMS's Master Consumer file of 240 million U.S. consumers—SMS also boasts the largest instatement insert agency/broker in the nation. SMS's traditional list management, brokerage, list fulfillment divisions manage more than 700 list properties and broker for over 200 mailers. The company is headquartered in Hasbrouck Heights, New Jersey.