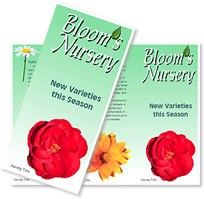 Miami, FL (PRWEB) August 07, 2013
Smart Resolution introduced recycled paper, soy-based inks and logistical shipping for brochures as a response to the growing concern for the environment. Many businesses may be surprised to find that environmentally conscious printed products does not mean an escalated cost. Smart Resolution is also pairing these lower prices with their 100% satisfaction and 30 day money-back guarantee.
Smart Resolution offers brochure printing with several options for sizes and quantities while remaining cost effective. Businesses can order smaller quantities of full color brochures with the option for digital printing. Larger quantities of printed products require offset printing. Offering both printing styles means that prices remain competitive and companies get a high quality product at a lower cost. Customers can order anywhere from 50 to 150,000 brochures, and they will be printed and shipped within four business days.
Ordering and designing a brochure is made simple with Smart Resolution. Brochures can be ordered in four different sizes and five different folding styles. Depending on the use of the brochure the folds and sizes will be different. There are options for unique additions like drilled holes for hanging and perforations for detachable business cards and coupons. Customers can choose from different weights of stock. Heavier stocks can be used for products that need to sit up whereas lighter stocks are at a lower price point. Smart Resolution offers several brochure design templates to aid customers in creating their own brochures. Customers can be sure that they are getting exactly what they ordered with free online proofs.
Eco-friendly stocks and inks are becoming more common in the printing industry. Brochures can be printed in a matte or gloss finish and in light or heavy stocks. These stocks are created from Smart Resolution's very own paper waste. The recycled stocks are printed on with soy-based inks. These inks release less volatile organic compounds when they are printed. The process is safer for the atmosphere than traditional petroleum-based inks. Using soy-based inks for printing does not mean there is any sacrifice in quality or clarity.
Smart Resolution aims to bring customers to newest trends in printing while keeping their prices competitive. Brochures are a unique promotional tool for businesses who are looking to be both economically and environmentally conscious.
Founded in 2003, Smart Resolution is an online printing company that offers complete solutions for small businesses seeking value, convenience and professionalism. With a user friendly website and the latest trends in technology, they aim for a growing number of customers to elect them as the online printing company of their choice.