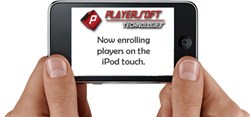 Group Tracker eliminates lines at club booths and enables staff to track and manage groups of any size."
San Diego, CA (PRWEB) August 06, 2013
Morongo Casino Resort and Spa has added Playersoft's Group Tracker system expanding its mobile capabilities to increase the convenience and speed of group enrollment. The system scans driver's licenses and player cards quickly allowing casino staff to enroll and track groups of any size from anywhere on the casino floor utilizing a specialized iPod Touch.
"We've seen such positive reception from guests and staff after adding Playersoft's Mobile Enrollment platform, Group Tracker was a natural progression and complement to our marketing goals," says Kari Smith, Morongo Casino Executive Director of Marketing. "The tracking abilities Group Tracker includes make our staff far more productive in identifying players and overall group management."
Group Tracker is so quick and easy, it literally eliminates group check-in lines by allowing casino staff to meet and greet guests at the curb as they arrive with a bus group or in a convention meeting room where a business meeting is taking place. With "Group Tracker, we're able to assign packages and track associated play with each group all in one place," says Smith. "When a system allows us to reach out to guests, it becomes more than a tracking system; it is a customer relations tool which fits seamlessly with Morongo's standards to always achieve a higher level of service."
Most guests visiting a casino property have limited time and are part of a preset schedule. Playersoft's Group Tracker system allows guests to get right to the gaming floor and their favorite games. "The system provides a powerful mobile application with a straight forward and easy to use interface," says Vice-President of Technology, Hunter Hunstock. "Group check-in's need to move quickly and we've created our platform for high speed group check-in from anywhere groups arrive."
Group Tracker gives operators the ability to create a group on the fly choosing from pre-defined packages for any unplanned arrivals. "It does more than streamline the process," said Playersoft President, Tony de Leon," it creates a better experience for guests and also interfaces with casino signage to update arrival and departure times." Group Tracker also allows for comprehensive reporting by group, with the ability to create post analysis and profitability reports by group or function.
Utilization of an Apple iPod Touch makes the entire system small, lightweight and easy to use. "We've been casino operators ourselves," says de Leon. "Through our experience in Las Vegas resorts and Native American gaming operations, we know the importance of making the casino player's visit convenient and hassle free regardless of a property's size.
Group Tracker was designed specifically to streamline group management and is part of a suite of products offered by Playersoft built on the iPod Touch technology allowing each platform to interact together and with any current casino system.
For a demonstration of the Playersoft Suite of Products, please visit our booth 4117 at the G2E show in Las Vegas at the Sands Expo September 24th - 26th.