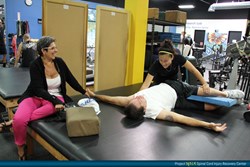 Since coming to Project Walk I feel like an active participant in my own recovery
Carlsbad, CA (PRWEB) August 13, 2013
Joe Preti has dealt with many dangerous circumstances due to his tendency to sleep walk. Nearly three years ago Joe was sleepwalking through his Washington home when he took one fateful step that would change his life forever. This step resulted in a tumbled down a flight of stairs and would soon become more than just a physical act but also a metaphor for the life he once led.
Joe's accident resulted in a T3 spinal cord injury that left him paralyzed from the waist down. Activities such as playing the piano and getting dressed became major challenges in his life and with this loss of identify came great depression. Joe struggled with many aspects of his injury and the thought of recovery never seemed like a viable option.
The initial prognosis for a spinal cord injury is typically bleak and with little hope of life beyond a wheelchair. This was no different for Joe as his therapist and the staff at University of Washington Medical Center, presented him with the all too common view that a wheelchair is his new identity. It is this common diagnosis that Specialist at Project Walk Spinal Cord Injury Recovery Center, try to dispel. Their view is that there is more to life beyond the wheelchair.
"My outpatient physical therapy consisted of transfer skills, personal hygiene [which was all] focused on living life in my wheelchair. I was not ready to accept that and wanted someone to help me try to walk again. That is what happened for me when I came to Project Walk."
Joe originally visited Project Walk headquarters in Carlsbad, California with small expectations and some skepticism. After a little more than a year at the facility he began to show remarkable improvements. Joe immediately began to make advances in his core strength and soon began to sit upright and balanced without any help from his wife or Specialists.
Project Walk Spinal Cord Injury Recovery Center, the world leader in spinal cord injury recovery, provides an improved quality of life for people with SCI through intense activity-based recovery programs, education, training, research and development. The Project Walk brand is exclusively managed and operated by SCI Business Solutions, Inc. and consists of a global network of franchised and licensed locations encompassing both for and nonprofit businesses. Headquartered in Carlsbad, California, Project Walk has locations throughout the United States and worldwide, serving clients in over 30 countries, on 6 continents.
Joe describes his road to recovery as a smoother process once he entering Project Walk's program. His Specialists at Project Walk have helped him dedicate hours to core strength, lower body awareness and FES training. All of these routines are practiced out of his wheelchair, and have been able to sufficiently challenge Joe's central nervous system and stimulate the paralyzed portions of his body.
Joe has become an active member in his spinal cord injury community and Project Walk's network of clients. He is quick to share his story, Joe states that '"Project Walk has changed my life in several ways; I no longer take all the medication I was taking, 36 pills a day, which didn't help and only made me feel drugged and lethargic. Since coming to Project Walk I feel like an active participant in my own recovery,"
Prior to his arrival at Project Walk, Joe was depressed and in anguish with the thought of living out a wheelchair for the rest of his life. At Project Walk, he was able to regain his self-confidence and break barriers. Fortunately, going through the Dardzinski Method at Project Walk with his Specialists have given rise for achievable goals. Because all exercises under the method are practiced out of his wheelchair, it has become a reality for Joe to achieve his goal towards being able to play piano again.