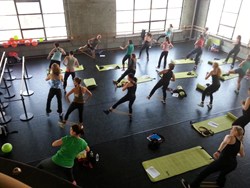 For the first time in Australia, courses will be offered in MH&F's newest top tier branded programming
Toronto, ON (PRWEB) August 07, 2013
Merrithew Health & Fitness™ (MH&F) continues to circle the globe celebrating the 25th Anniversary of their premier brand, STOTT PILATES®, with the Merrithew Mindful Movement World Tour (#mmm2013). Coming to the land down under in Melbourne October 25 – 27, this symposium provides fitness professionals and enthusiasts alike with first-class training in mind-body modalities plus a rare opportunity to work with MH&F Master Instructor Trainers who are some of the industry's most respected and inspirational names.
For the first time in Australia, courses will be offered in MH&F's newest top tier branded programming ZEN•GA™, Total Barre™, and CORE™ Athletic Conditioning & Performance Training™. Workshops and courses for Halo® Training and premier brand STOTT PILATES will also be presented. Registration is now open at Merrithew.com.
Australia has an established community of STOTT PILATES trained instructors, boasting more than 1,200 trained and certified instructors. The popularity of Pilates in the country has resulted in host training centres in Adelaide, Auckland, Melbourne, Sydney and Perth, as well as a strong and ongoing partnership with local distributor Leisure Concepts Australia to distribute MH&F's equipment.
Every day of the Merrithew Mindful Movement World Tour offers a unique opportunity to choose from a host of sessions, allowing attendees to tailor the event to suit their needs. Programs are led by Executive Director, Education, Moira Merrithew, and her team of Master Instructor Trainers: John Garey, Kim Kraushar and PJ O'Clair. Registration for Melbourne is now open at http://www.merrithew.com/worldtour2013. Prices range from $300 for four workshops to $810 to attend all three days with the early registration discount in effect until August 11, 2013.
All large hardware, including V2 Max Plus™ Reformers, Stability Barres™ and other equipment used during the courses and workshops will be available for sale at 25% off of the regular purchase price and all accessories and non-hardware items are available at 30%. For more information please contact leisureconceptsaustralia(at)merrithew(dot)com.
Merrithew Mindful Movement World Tour Itinerary*

April 12 - 14, Cologne, Germany, Marriott Cologne
April 26 - 28, New York City, Baryshnikov Arts Center
May 17 - 19, Los Angeles, California, Marriott Manhattan Beach
June 28 – 30, Shanghai, China, Radisson Blu Hotel Pudong Century Park
July 5-7, Osaka, Japan, Hearton Hall
September 20 - 22, São Paulo, Brazil, Sheraton São Paulo WTC Hotel
September 27 – 29, Mexico City, Mexico, Hilton Mexico City Reforma Hotel
October 25 - 27, Melbourne, Australia, Crown Melbourne Entertainment Complex
November 8 - 10, London, England, YMCA Central London
TBD, Madrid, Spain
TBD, Toronto, Canada
*Itinerary subject to change.
-30-
For interview requests, please contact communications(at)merrithew(dot)com
About Merrithew Health & Fitness
Merrithew Health & Fitness™ was co-founded by Lindsay and Moira Merrithew in 1988. For 25 years they have been dedicated to enriching the lives of others by providing responsible exercise modalities and innovative fitness brands across the globe. Merrithew's premier Pilates brand, STOTT PILATES®, delivers best-in-class Pilates education and media to everyone from avid exercisers, elite athletes, and pre/post-natal clients, to rehab and fitness professionals, and is used by studios worldwide. Other high-end MH&F fitness brands include ZEN•GA™, Total Barre™ and CORE™ Athletic Conditioning & Performance Training™. Merrithew Health & Fitness has trained almost 38,000 students in over 100 countries. Merrithew's Media Division (MMD) produces print and video-based content for professional and consumer markets. For more information visit merrithew.com.