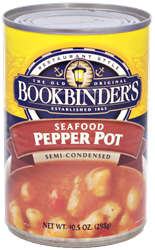 We hope that Pepper Pot lovers will be more satisfied with this new taste profile and recognize our ongoing commitment to customer satisfaction." - Colin ONeil, New Business Development Manager, Bookbinder Specialties
Philadelphia, PA (PRWEB) August 08, 2013
One of the major advantages of a smaller company is the ability to quickly respond to customer feedback and changing market demands. Bookbinder Specialties, a PA Preferred Company, is changing the spice profile of their Pepper Pot Soup, to "increase the heat" in response to customer requests. The revised flavor will be in regional grocery stores later this month.
"We are always looking for new ways to improve our products. We reintroduced our Pepper Pot soup in 2011, in response to customer requests (after Campbell's discontinued their version). While many people thought our Pepper Pot was good, they overwhelmingly preferred a product with even more spice," explained Colin O'Neil, Bookbinder's New Business Development Manager. "We hope that Pepper Pot lovers will be more satisfied with this new taste profile and recognize our ongoing commitment to customer satisfaction."
Pepper Pot is a soup rich in both flavor and Philadelphia history. The soup was allegedly created in the American Revolutionary War, during a harsh winter at Valley Forge. Continental troops were running low on food and the soup was made out of the limited food they could scavenge: beef tripe, vegetables, pepper and other seasonings.
This unique flavor was once produced by the Campbell's Soup Company, and was one of the iconic soup cans painted by Andy Warhol. However, Campbells discontinued their product in 2010.
In response to customer requests, Bookbinder Specialties reintroduce the flavor in 2011 with their own signature flare of seafood. Bookbinder's Pepper Pot Soup is a hearty, thick, spicy, tomato-based stew with premium cod fish, carrots, onions, and macaroni. The soup is semi-condensed and packaged in a 10.5 oz. can. The spicier product will have a "best used by date" of July 2016 or later.
Bookbinder's soups have been a staple in the Philadelphia area, and served in the Old Original Bookbinder's Restaurant since 1865. The restaurant created a foods division in the early 1970s to share the original restaurant favorites in retail portions. Today, Bookbinder Specialties carries on the tradition of the restaurant while catering to the expectations of the nation's gourmet consumers. They carry a full line of gourmet seafood soups, including Lobster Bisque, Clam Chowders, Crab Bisque, Oyster Stew, Shrimp Bisque and more. Additionally, their newest line of Ready-to-Serve vegetable soups has received critical acclaim winning a gold medal in the 2011-2012 Gourmet Products Awards, and "Very Good" ratings by Consumer Reports.
Bookbinder's Pepper Pot Soup is carried in many Acme Markets in the greater Philadelphia area, and will be added to Demoulas' Market Basket stores in New England. In addition to other fine grocery and specialty stores, Bookbinder's Pepper Pot may be purchased on the Bookbinder Specialties web site, http://www.BookbinderSpecialties.com or on Amazon.com.