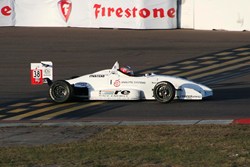 "To forget and move on from the unfortunate end of race 1 was one of the most difficult things I've had to do in racing," stated Hargrove.
Vancouver, BC (PRWEB) August 08, 2013
Vancouver, BC, native Scott Hargrove increased his lead in the USF2000 Series after a tough triple header weekend at the Mid-Ohio Sports Car Course. Race 1 was run Saturday morning in wet conditions with numerous full course yellow flags. At the last restart, Hargrove executed a brilliant outside pass on his teammate to take the lead of the race only to be hit in the next corner by another competitor who had lost control of his race car. Hargrove was able to resume, however, the race was immediately stopped by a full course yellow, resulting in an unrepresentative 17th place finish.
Race 2 was run that afternoon on a sunny dry racetrack and Hargrove started in 3rd and drove a clean race to finish in 2nd place. Race 3 on Sunday morning saw Hargrove start in 3rd place again and quickly move to the lead just as chaos broke out behind with no fewer than 11 cars involved including his teammate resulting in a red flag to clean up all the debris. When the race resumed, Hargrove continued in the lead, but relinquished the position to a very determined fellow Canadian, as championship points outweighed the risk of a crash. Hargrove finished in 2nd place again to round out the weekend, and increased his lead to 46 points (30 points are awarded for a win).
"To forget and move on from the unfortunate end of race 1 was one of the most difficult things I've had to do in racing," stated Hargrove. "Cape Motorsports with Wayne Taylor Racing did an excellent job of making sure the car was repaired and back to 100% by race 2 later that same day. We came away with 2 second place finishes and after the way race 1 went I'm thrilled with the result. Consistency is going to win this championship and the team and I are doing everything in our control to do just that. I can't wait for the final 4 races, as I'm sure there is lots of excitement yet to come!"
The series resumes September 7th at the famed Mazda Raceway Laguna Seca in California.
For more information about Scott, visit his website at http://www.scotthargrove.com keep up to date via Twitter @Scott_Hargrove, his Facebook page @ ScottHargroveMotorsports and Instagram SCOTT_HARGROVE.
Analytic Systems is a world class manufacturer of high performance Power Conversion Equipment for the Military, Marine, Industrial and Alternative Energy markets. Visit http://www.analyticsystems.com for more information.
RaceEnergy is a division of Analytic Systems that specializes in Battery Chargers and other electronics for the motorsports industry. Visit http://www.raceenergy.net for more information.
Metal Action Machining is a world class CNC machine shop specializing in 3D and multi axis precision machining for Industrial, Aerospace and Military applications. For more information, please visit http://www.metalaction.ca .
Cape Motorsports with Wayne Taylor Racing was formed in 2010 as a partnership between two successful race entities. With leadership from brothers Nicholas and Dominic Cape and along with Wayne Taylor and his organization in Indianapolis, the team won the 2012 Cooper Tires Presents the USF2000 National Championship Powered by Mazda. Visit http://www.capemotorsports.com for more information.
To arrange interviews, photos, video, please contact Shalina Kajani at 604.801.5477 or 604.377.7097 or shalinakajani(at)shaw(dot)ca.