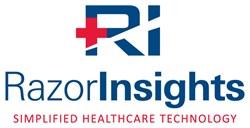 Kennesaw, GA (PRWEB) August 07, 2013
RazorInsights, a leading provider of healthcare information technology solutions for rural, critical access and community hospitals announced recently that Cozby-Germany Hospital, a 52-bed acute care hospital, located in Grand Saline, Texas, has signed for its ONE-Enterprise Edition. RazorInsights' ONE-Enterprise Edition provides a comprehensive solution – delivered from a single database platform – that includes financial management, clinical information and an electronic health record, for a truly integrated information technology experience.
The ONE-Enterprise Edition supports all venues of care on a single database; it provides a single integrated platform for the hospital, clinics, subacute and post-acute settings. Patient data is never jeopardized by interfacing separate, disparate systems. The ONE-Enterprise Edition provides a total information technology solution for rural, critical access and community hospitals.
"We were looking for an easy-to-use, comprehensive information technology solution for our hospital. We also wanted the system to include the certified technology that would allow us to achieve Meaningful Use, so we can qualify for the ARRA HITECH Act incentive funds. RazorInsights' software has a proven record of accomplishing these goals for other hospitals our size," commented Abbas Mian, M.D.
The intuitive design of RazorInsights' ONE solution allows administrators and clinicians with limited technical skills to quickly transition to the new system, and its innovative use of cloud technology results in seamless upgrades. Hospitals using the scalable solution simply maintain a low, all-inclusive monthly subscription with RazorInsights, alleviating the need to purchase and maintain a server and eliminating the purchase of a software license.
"We are very pleased to have Cozby-Germany Hospital choose our ONE-Enterprise Edition to better the overall quality of care for their community," commented Reed Liggin, co-founder and CEO of RazorInsights. "Our intuitive, single-database solution will quicken their ability to move to an electronic environment and also give them the advanced health IT solutions they need. We look forward to fostering our mutually beneficial partnership."
About Cozby-Germany Hospital:
Located in Grand Saline, TX, Cozby-Germany Hospital is a 52-bed acute care hospital serving the residents of Grand Saline and the surrounding area. Cozby-Germany Hospital is a nonprofit, acute care hospital with certified level IV trauma center. The hospital offers a wide range of laboratory and radiology services, such as X-rays, fluoroscopy, CT scans, bone density testing, ultrasound and mammography. Additionally, it will provide various services, including orthopedic surgery, biopsies, mammograms, gastroenterology and diagnostic services. The hospitals other services can include cardiology, respiratory therapy, acute inpatient nursing care, and cardiac and pulmonary rehabilitation services. For more information regarding Cozby-Germany Hospital, call 903-962-6204.
About RazorInsights:
Based in Kennesaw, Georgia (in the metro Atlanta area), RazorInsights is a dynamic healthcare information technology company. In keeping with the principle of Occam's Razor, the company has created a simplified HIS solution for rural and critical access hospitals - ONE (ONC-ATCB 2011/2012), a single-database cloud solution offering a simple user experience with cutting-edge clinical tools and industry-standardized data. Hospitals can expect to improve their performance and bottom line with ONE from RazorInsights. For more information, visit razorinsights.com or call 770-308-4111.