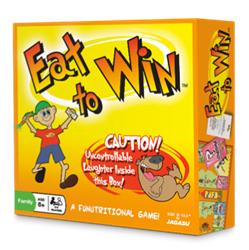 Winning the Walmart Get on the Shelf contest will help others see the potential of Eat to Win games.
Highland, MI (PRWEB) August 18, 2013
Eat to Win, makers of FuNutritional games and products, submitted their Board Game as part of Walmart's Get on the Shelf contest. The contest is targeted toward products made in the USA and is not limited to certain categories of products. There are five stages in the contest. The first stage is a review by Walmart of each product and a selection of a portion of those entries to move on to the second stage. Eat to Win was notified on August 6 that its FuNutritional Board Game has been selected as one of those games moving forward.
The Eat to Win Board Game helps children learn the importance of good nutrition and physical exercise in a fun, dynamic way. Jammi Roscoe, Chief Executive Director of Fun for Eat to Win, says, "Our game is perfect for families to play or for schools to use in after-school activities."
The next stage in the contest is a chance for the public to make its voice heard through on-line voting for products they like best. Should the Eat to Win Board Game pass stage two, the Eat to Win story will be featured in an original web series as part of stage three. Those products selected in stage three will move on to stage four where they will be made available on Walmart.com. Those products selected as "grand champions" in stage five will receive marketing support from Walmart.
Members of the public can vote for the eat to win game at: https://getontheshelf.walmart.com/product/109d/Eat-to-Win-FuNutritional.
Eat to Win games can play a big role in helping children learn which foods are good for them and which are not.
For more information, please visit http://www.eattowingame.com.
About Eat to Win:
Eat to Win was created by a concerned mom whose own child struggled with being overweight. Child obesity in America has become a major issue. An unhealthy lifestyle is a common problem among children and adults. Eat to Win was created to help encourage nutrition and exercise through fun and active games. Please share your stories with us on Facebook and Like Us to receive a discount! Our games are in agreement with ChooseMyPlate.gov.