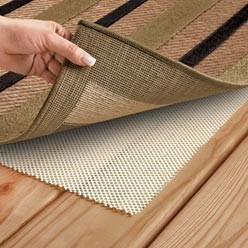 Rug Pads provide a solid foundation for any rug.
(PRWEB) August 10, 2013
PlushRugs.com has offered free rug pads with the purchase of Karastan area rugs for some time, and is now able to extend this promotion to other top quality brands: Surya rugs, Orian rugs, and Loloi rugs. This promotion is available now for all eCommerce customers.
Rug pads provide a solid foundation for any rug. They bring extra comfort into a home by providing a bit of cushion for each step. There are other practical advantages to using a rug pad too. They increase the durability of the rug and extend the overall life expectancy of the rug. They can also reduce puckering and other wear and tear that furniture may cause on a rug over time. Rug pads are perfect for rugs placed on hard wood or tile floors and will even help in carpeted areas.
Pads can also protect the floor under the rug from staining due to color transfer. Depending on the dyes used in the creation of a rug, some rugs have dyes that may bleed over the years, slowly tinting the floors underneath them. Rug pads create a space between the rug and the floor beneath and can absorb the dyes instead.
PlushRugs.com is proud to offer a complimentary Super Hold rug pad with every purchase of a Surya rug. The Super Hold rug pad is named for its superb resistance to slippage and wrinkles. These pads are made of durable polyester coated in non-slip polymer which helps create a safer environment by holding the luxurious wool area rug in place even under heavy foot traffic. This reduces the hazard of tripping over the rug and makes vacuuming easier.
Most Super Hold rug pads are conveniently sized for typical area rugs. For unusually sized rugs, the rug pad can be easily trimmed to the correct size with a pair of ordinary scissors. Every area rug pad comes with a 5-year warranty from Oriental Weavers Sphinx.