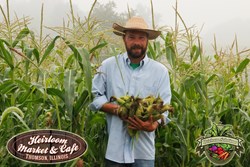 Thomson, IL (PRWEB) August 06, 2013
The Heirloom Market & Café recently started featuring local sweet corn for sale in their market, but there is actually a story behind this particular sweet corn operation. When people go to the grocery story to purchase sweet corn they very seldom have an idea of who the farmer was that grew the sweet corn. That is far from the case at the Heirloom Market & Café.
Bill Heid, owner of Heirloom Market & Café and Heirloom Solutions set out to make fresh local produce available to his customers. In his quest to make this dream a reality he purchased land that would allow him to grow his own local produce. Heid believes in offering produce that has not been treated by harmful chemicals and is grown the all-natural way with a lot of labor and a lot of love.
Under the direction of Bud Benson, a team at Heirloom Solutions undertakes the laborious work that goes into making sure that they are able to offer the highest quality fruits and vegetables without the use of harmful chemicals. The produce that they are able to offer, including their sweet corn, has been grown naturally. Most has been planted by hand, weeded by hand, and none of it has been treated with pesticides, herbicides, or fungicides.
"For me, sweet corn is a staple of summer. Everyone seems to want sweet corn. I think it really says something about Heirloom Market & Café and Heirloom Solutions that they choose to offer sweet corn that is free of chemicals. Their customers know that they are getting the highest quality sweet corn in the area," says Bud Benson, Heirloom Solutions.
Heirloom Market & Café is currently able to offer three different varieties of sweet corn including a yellow, a white, and a mixed variety and each ear of corn is picked by hand, packed in the back of a truck and brought just a few miles to be made available for sale. "Once the ears (of corn) are picked they only spend a few minutes off the stalk before we make them available to our customers. This quick and simple process really makes them as fresh as possible," says Benson. "Then, once the corn arrives at Heirloom Market & Café it is placed in a temperature controlled environment until the customer purchases it," he continued.
For the most up to date information about the seasonal produce available at Heirloom Market & Café and to find out more about all the events they have going on, go to http://www.TheHeirloomMarket.com/.