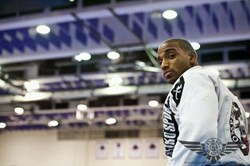 "It's apparent that this program aided in their successes during the 2012-2013 competition season."

- Julius Park, Head Instructor
Baltimore, MD (PRWEB) August 09, 2013
Exceed Sports Performance will host a day long strength and conditioning seminar at Crazy 88 Baltimore Martial Arts academy on Saturday, August 10.
Exceed Sports Performance (ESP) is an athletic development and fitness training center based in Northborough, Massachusetts. Shane Davenport, owner and Director of Performance, is responsible for creating the strength and conditioning routine for the Crazy 88 competitors for the 2012-2013 competition season.
ESP was originally introduced to the Crazy 88 team by Tye Murphy. Murphy, 2013 Purple Belt World Champion in Brazilian Jiu Jitsu, had been working with Davenport at Exceed for several years.
Julius Park, Head Instructor, said of Exceed, "Our athletes had always been on circuits. But when we saw the results Tye was getting from ESP we knew we had to put our other competitors on the circuits as well."
He continued, "Without a doubt we have seen an increase in the strength and conditioning of each of our competitors since they started this program. It's apparent that this program aided in their successes during the 2012-2013 competition season."
Shane will be returning to evaluate the athletes already participating in the program as well as provide an introduction for any members interested in pursuing the outlined conditioning program.
Participants can expect a discussion of training system and strength qualities, assessments as screens as well as corrective strategies. The seminar will also include a demonstration of exercises as well as instructions.
For those interested in the programs offered at Crazy 88 Brazilian Jiu Jitsu visit http://www.Crazy88BJJ.com or call (443) 283-1450. You can also visit any of our three locations:
7024 TROY HILL DR, ELKRIDGE, MD 21075
5 EASTER CT, SUITE E, OWINGS MILLS MD 21117
1845 BROOKFIELD CT, FREDERICK, MD 21701