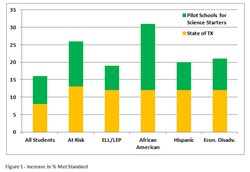 My students experienced great success using this method
Orange, Texas (PRWEB) August 07, 2013
Scientific Minds, LLC has released Chemistry Starters, its fifth product in the Science Starter series. Chemistry Starters break down state and national chemistry standards into 101 digital video lessons that bring visual clarity to the core ideas of chemistry, which range from the development of the periodic table to how to calculate the percent yield from a chemical reaction.
Chemistry Starters were developed in response to a growing need for web-based chemistry materials that are built on current best practice research and that address 100% of chemistry standards in most states. "As Science, Technology, Engineering, and Math (STEM) initiatives drive schools to innovate, many states are moving towards end-of-course assessments in chemistry. We've developed a comprehensive chemistry product that will meet the needs of classroom teachers and students across the country," said Kathy Reeves, Founder and Company President.
Scientific Minds has chosen to adopt the recently introduced STEAM initiative (Science, Technology, Engineering, Art, and Math), which adds the Arts in a more rounded effort to drive innovation throughout the U.S. With a strong foundation of core ideas, students of all ages can put their science knowledge to use in project-based design.
Classroom teachers and individual students are already successfully using Scientific Minds' Biology Starters, which were released for the 2012-13 school year. Both Chemistry Starters and Biology Starters are built on Scientific Minds' new student-centered platform, which includes interactive digital flashcards and quizzes for each module. Reeves says the new platform was developed for flexible learning environments, so Chemistry Starters are ideal for whole-class learning as well as for individual student use in tutorials or at home. "I founded the company with Science Starters for whole-class instruction because my students experienced great success using this method. But as we've seen an increasing emphasis both on students' using personal technology and on project-based learning, we've seen the need for the same quality, web-based core content provided directly to the student."
Some teachers are implementing the flipped classroom where students initially learn core ideas on their own time, as assigned homework. "With our product, students are assigned a Chemistry Starter to view at home (it plays as a video with audio), they reinforce learning with the interactive flashcards and quiz, and then the next day, students come to class prepared to use that core knowledge in any project-based activities the teacher has planned." The company offers the option of online professional development for all of its products. With this training, teachers can learn Scientific Minds' research-based methods for implementing the Science Starters in and out of the classroom.
Scientific Minds' products are built directly from state and national science standards and are based in best practice teaching methods. In-house research shows that, over 2 years (see Figure 1), students who used the original High School Science Starters, which address Biology and IPC standards, achieved two times greater gain in percentage points on state science assessments over those who didn't. Struggling subpopulations saw even greater gains. Reeves notes that all students benefit from using Science Starters, but struggling students and English language learners experience the greatest benefit from the product because it is rich in images and animations that support the difficult vocabulary of science.
Since its inception in 2007, Scientific Minds has seen growth and acceptance even as schools have tightened their budgets. Reeves attributes this growth to the company's commitment to supporting teachers and developing products that are based on current brain research and tested in the classroom. As a 24-year classroom veteran and an earnest entrepreneur, Reeves has led her talented research and design team to develop products that are both teacher-friendly and student-centered.
Chemistry Starters target state standards for high school chemistry, but Reeves is confident that AP Chemistry students and first year college chemistry students will also benefit from of the valuable study tool. Rachel Sanchez, who teaches general chemistry at Blinn College, recently commented, "I absolutely think the material would be good for general chemistry students. We provide them with so much information that something straight to the point is nice to have handy." The program includes a bonus series of advanced lessons that makes the package appropriate for upper-level classes.
As with all Science Starters programs, the Chemistry Starters will be sold as a one-year site license and updated each year to meet changing state and national standards. The Science Starters are aligned to the Next Generation Science Standards (NGSS), all 50 states, and Puerto Rico. The company offers a free 7-day trial at http://www.ScientificMinds.com.
About Scientific Minds, LLC
Scientific Minds, LLC publishes online resources for K-12 science education. Founded in 2007 by a veteran science teacher, Scientific Minds, LLC provides tools and processes to enhance science instruction and includes strategies to support all students. The company mission is to develop quality, web-based educational products that inspire, encourage, and promote next-generation skills for student success.