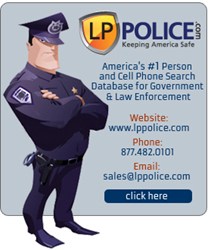 I have personally been able to locate individuals, businesses in the course of my research investigations that I could not find with other information services
Boston, Massachusetts (PRWEB) August 07, 2013
LP Police, America's #1 Person and Cell Phone Search Database for Government & Law Enforcement has introduced new software that features the finest investigative database for Law Enforcement agencies.
The new website has been completely re-designed for ease of use and fast access to the latest comprehensive reports.
Tap into billions of records efficiently and solve more cases.
All of the searches have been restructured to provide users with the most sought after information. This includes a broad range of search categories, comprised of over 25 new searches professionals are looking for.
A new, all-inclusive report now contains over two dozen data points on a subject, so all of the information is in one place.
LP Police has a flat monthly charge – cancel anytime, no contract, and a money back guarantee.
With multiple search options, LP Police is the most comprehensive skip tracing tool anywhere. Enter a SSN, Name or Address and instantly cross reference current data to provide you with the information needed for successful investigations.
Quick Tip sections on the top of every page assist investigators through every step of a search.
Joe Boofer crime analyst for the Scottsdale Police Department commented:
"We have utilized your services for the past several months, the LP Police online service is regularly on daily basis. I have personally been able to locate individuals, businesses in the course of my research investigations that I could not find with other information services, especially in the telephone searches. The cost of the LP Police online service is extremely reasonable and the customer service is excellent."
LP Police Advantages:
Unlimited Person, Phone, Property, Criminal, Civil and Business search only $75.00 per month including a Cancel Anytime/Money Back Guarantee.
Unlimited and Premium reports include full SSNs, DOBs, MVR, people, assets, licenses, court records (criminal/civil), phones, weapons permits, hunting/fishing licenses, watercraft records, FAA certificates, prior residences, real estate holdings, recorded bankruptcies, liens, judgments, businesses and more in a secure, interactive, searchable database.
Law enforcement and government agencies (federal, state and local) are encouraged to experience the superior data, accuracy, world class free "VIP" technical support, one-on-one training, and customer service from LP Police.
About LP Police:
LP Police, located in Boston, Massachusetts is the nation's leading provider of accurate, complete and cost-efficient investigative information and reports on a majority of the U.S. adult population.
Our proprietary online skip tracing database can be used wherever there is an Internet connection, whether in an office or on a mobile smartphone or tablet device.
Subscribers have instant access to America's #1 person and cell phone search.
Law enforcement benefits from billions of updated online public records to conduct person, phone, address, email, social security, civil records, criminal background, property, assets, licenses and motor vehicle searches.