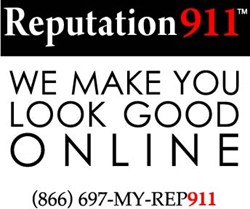 Google is now your online resume and social media is your background check.
Boston, MA (PRWEB) August 07, 2013
Reputation911 helps individuals and businesses turn their online image from a liability to an asset by removing the negatives and building on the positives to create a professional profile. Search engines often key in on one bad article, which can overshadow all of the good ones and inaccurately define an individual or company online.
William DiAntonio, Founder and CEO of online reputation management firm Reputation911, explains, "Google is now your online resume and social media is your background check."
These days, a person's online reputation arrives before he or she does and makes an incredible first impression to employers, dating partners, family, friends, and anyone who knows how to turn on a computer or use a mobile device.
The My Online Reputation™ program, from Reputation911, delivers immediate and long-term results by tailoring a three-stage approach based on clients' needs and current situations to help individuals and businesses restore their online reputations, promote their online presence, and control their online image.
"Everyone has a chapter in their life that they would like to close," states DiAntonio, "At Reputation911, we help our clients take back control of their online profile and portray a more accurate reflection of themselves as if it were the opening conversation with someone meeting them for the first time."
About Reputation911
Headquartered in Hopkinton, MA, Reputation911 was founded in 2010 to help individuals and businesses look good online. Current clients include high profile celebrities, Fortune 500 companies, small businesses and professionals. Reputation911 gives its clients the freedom to accurately portray themselves online and guarantees immediate, long-term results that restore the clients' online reputation, promote their online presence and protect their online image and privacy. For a free confidential consultation, visit Reputation911.com or call 866-MY-REP911.