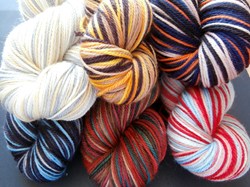 All registered! I am really looking forward to this. October is a great time to knit and it is a beautiful place to visit.
Millinocket, Maine (PRWEB) August 07, 2013
The New England Outdoor Center an outfitter in the Maine North Woods is excited to announce a fall Fiber Arts Retreat. An inspiring landscape, amazing food, and enthusiastic fiberistas are sure to make this fiber retreat an enriching get-a-way grounded in community and all things fiber. In collaboration with the Fiberista Files, and Knittin on the Fly, the New England Outdoor Center has designed a fiber retreat that provides the necessary space for creative rejuvenation and connecting with others of the craft. This three night, two day package includes not only premier lodging and food but also personal, constructive time with two popular podcasters, choice of mini workshops on spinning, dyeing and knitting as well as an exclusive vendor marketplace.
Guests will be comfortably accommodated at NEOC's Twin Pine Camps. Nestled on the shores of Millinocket Lake, overlooking Katahdin, Maine's highest peak, the resort includes a variety of cabins which exemplify quality Maine lodging and include a variety of amenities: wireless internet, full kitchen, linens, towels, coffee and complete on-site dining. Festivities and gatherings will take full use of NEOC's River Driver's restaurant where participants will be treated to all inclusive dining, market place and workshops.
Hostesses Katie of Knittin' on the Fly Podcast and Heather of The Fiberista Files are assisting NEOC in coordinating door prizes, goodie bags and workshops. Their dedicated podcast community has already begun to register for this event October 24th-27th coming from around the United States and as far away as Sweden. NEOC has set up a forum board on the popular fiber arts platform Raverly to encourage conversation amongst participants. Here, knitters and spinners can chat, obtain information and generally get excited about this upcoming event. "All registered! I am really looking forward to this. October is a great time to knit and it is a beautiful place to visit." says one participant.
While NEOC is still working on the vendor list, the marketplace will exemplify local yarns and fibers drawing the on the rich Maine fiber community as well as northern New England. Currently, One Lupine Fiber Arts, Enchanted Knoll Farm and Northern Solstice Alpaca Farm have all expressed strong interest in participating in the marketplace and there are still more to come!
As part of the retreat weekend workshops, demonstrations and educational talks will all be included. These classes and lectures will highlight knitting and spinning techniques, fiber awareness as well as introductions to other wool crafts such as felting, needle felting and embroidery. NEOC and the podcasters have designed this retreat to be not only informative but also relaxing so participants can build their own schedule of activities depending on their interests. While fiber is the focus of the event, NEOC realizes that their location in the North woods also lends itself to outdoor activities such as hiking, wildlife viewing and stargazing. This retreat leaves plenty of time for guests to explore and enjoy the Maine landscape.
The Fiber Arts Retreat is a three day, all inclusive package starting October 24th and ending on the October 27th. Space is limited to forty people and guests can choose a private or shared room in the cabin. Classes and workshops will be available on Friday the 25th and the marketplace will be open on the 26th exclusively for the participants in the morning and then the public in the afternoon. Saturday night will be a festive affair with door prizes and games. Inquiries can be made to the NEOC for further information.
About the New England Outdoor Center: The New England Outdoor Center Maine's premier adventure resort, is uniquely situated to showcase Maine's natural beauty and access unforgettable, customizable outdoor adventures year round. They offer a variety of experiences on the doorstep to Maine's North Woods and the Penobscot River. Hiking, rafting, Nordic skiing, fishing, and snowmobiling are just a sample of the activities New England Outdoor Center can provide for all ages and abilities. Their resort includes luxury accommodation in individual cabins completely equipped with the amenities of home or choose from a variety of camping options. An on-site restaurant, The River Driver's, offers both casual and fine dining choices as well as caters large events such as weddings, corporate retreats and family reunions. For more information, visit http://www.neoc.com or call 1-800-766-7238.