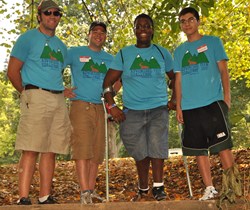 It is a beautiful thing to see the teens interact with one another and overcome obstacles they otherwise would not have been able to complete on their own.
Washington, DC (PRWEB) August 07, 2013
For a developmentally or physically disabled child or teen, the August 9 Adventure Teen Challenge from national non-profit World T.E.A.M. Sports offers these exceptional individuals the opportunity to explore the natural world outside of cities and pavement.
Held at the Chesapeake & Ohio National Historical Park along Washington's Potomac River, the event brings together 12 Washington area competitors ages 10 to 18 who will be paired with able-bodied teens for a day of hiking, bicycling and paddling. Providing guidance and assistance through the multi-mile, three-stage course, volunteers from Push America will work closely with their disabled teammates to safely complete the stages within the allotted period of time.
"The Challenge is unique because it teaches disabled and abled bodied teenagers to work together to complete a common goal," said World T.E.A.M. Sports Senior Event Manager Kimberly Warpinski. "It is a beautiful thing to see the teens interact with one another and overcome obstacles they otherwise would not have been able to complete on their own. The event really teaches the able bodied teens the struggles of living with disabilities. With a little teamwork, you can accomplish anything you put your mind to."
Participants of the Teen Challenge will hike one mile on a Carderock trail, ride seven miles along the C & O Canal pathway on bicycles, and paddle the canal by canoe one-half mile. Following the final stage, participants will gather with parents and family for a celebration and the awarding of medals.
"Seeing teenagers who have never been removed from a city atmosphere or on a bicycle complete a mile hike and seven mile trail ride along a canal" is memorable for Warpinski, whose participation in the August 2011 Adventure Teen Challenge was her first event with the non-profit. "Although it wasn't easy for some, you could tell how proud they were of themselves upon completion of the event."
"Since it was my first hands on interaction with individuals with disabilities, it had a huge impact on my perception of that community and how 'disabled' is really just a generic term for a group of individuals who shouldn't necessarily be labeled as such," explained the Annapolis-based event director, who traveled across America in 2012 as a team member of the organization's Sea to Shining Sea ride with 14 disabled veterans riding bicycles and hand cycles.
Although the Teen Challenge is not as complex as a cross-country bicycle ride, it does provide the participants with a sense of accomplishment. "No one should let their physical or mental limitations hold them back from accomplishing something bigger than they previously thought possible," said Warpinski.
The 2013 Adventure Teen Challenge from World T.E.A.M. Sports is scheduled for Friday, August 9 at the National Historical Park west of Washington. Dreams for Kids DC, Push America, The Boathouse at Fletcher's Cove, Subway of the Bethesda Naval Hospital and Edible Arrangements are event partners.
World T.E.A.M. Sports is a 501(c)(3) not-for-profit organization chartered in North Carolina and headquartered in Holbrook, New York. Celebrating 20 years in 2013, World T.E.A.M. Sports organizes athletic events for disabled and able bodied citizens – mountain climbing, white water rafting, bicycling, and more. Both disabled and able-bodied participants are included in all events, with all participants working as a team to overcome challenges. Events encourage disabled participants to build self-confidence and physical fitness while providing a role model for others with disabilities. World T.E.A.M. Sports events also encourage the disabled to take up physical activities and become a moving inspiration to other participants, as well as spectators who see that the disabled can meet challenges beyond anyone's imagination.