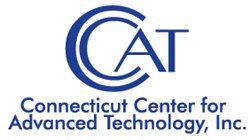 Koma's rotary table will greatly enhance our capacity to help regional manufacturers increase productivity through machining optimization.
East Windsor, Connecticut (PRWEB) August 07, 2013
Koma Precision, Inc., the largest distributor of Tsudakoma NC rotary tables, Alberti angle heads and live tools, today announced its collaboration with Connecticut Center for Advanced Technology, Inc. (CCAT) to offer advanced machining solutions at CCAT's Advanced Manufacturing Center (AMC) in East Hartford, Conn.
Koma Precision will provide CCAT with a Tsudakoma RBA-320R rotary table, one of Tsudakoma's premier rotary tables, for use on a Toyoda FV-1680 Vertical Machining Center at the AMC. The RBA series rotary table incorporates the finest Tsudakoma technology including hydraulic clamping and a worm wheel spindle assembly boasting outstanding clamp torque and accuracy.
For more than thirty years, Koma Precision has been the foremost source for the finest in machine tool productivity innovation. Koma is the leading worldwide distributor of Tsudakoma NC rotary tables and indexers having installed more than 30,000 rotary tables. With over 12,000 angle heads and live tools distributed and in operation, Koma is also the world's largest supplier for Alberti, the originator and renowned innovator of productivity tooling. In addition, Koma is now offering an extensive line of tool presetters from Elbo Controlli, one of the most highly regarded manufacturing companies of electronic equipment for machine tools.
"We are privileged to be collaborating with a recognized world leader in machine tool productivity and innovation," commented Bob Torrani, AMC director. "Koma's rotary table will provide a fourth axis on our 3-axis 50 taper vertical machining center, providing a realistic configuration of the machine tool set-ups used by regional manufacturing shops. It will greatly enhance our capacity to help regional manufacturers increase their productivity through machining optimization."
CCAT's AMC is a leader in technology optimization and cutting-edge machining, serving small to mid-sized manufacturing companies. Working in partnership with academia and industry, CCAT offers company-specific solutions to enhance manufacturing operations and productivity. In addition, the AMC is developing additive manufacturing processes and materials to support the maintenance and repair of aerospace components.
"Koma is pleased to collaborate with CCAT to provide manufacturers with state-of-the-art machining technology at the AMC," stated Barry Agosti, Vice-President, Koma Precision. "We are looking forward to a productive and rewarding relationship."
About Koma Precision
Koma Precision, located in East Windsor CT, has a 25,000 sq. ft. facility which features outstanding application engineering support, a superior service and repair department, a product showroom, and a multi-million dollar inventory of new product and spare parts. Koma's application engineers are able to support the fast paced and ever-changing machine tool industry with advanced concept ideas and engineered solutions. Utilizing AutoCAD® and Solidworks® Koma is able to ensure products purchased will be the best available for the required process operation. Koma is able to provide superior support for its products utilizing its outstanding service department. With a sales staff having over 150 years of combined experience, Koma Precision is ready to help you design the right solution to your machining needs. Koma Precision is proud to offer the world's finest machine tool accessories available.
About CCAT
The Connecticut Center for Advanced Technology, Inc. (CCAT), a unique economic development organization headquartered in East Hartford, Conn., leads partnerships between industry, academia and government, creating a collaborative framework for tackling today's economic challenges. CCAT combines expertise in cutting-edge manufacturing and information technology with specialized centers of excellence in education and workforce development and alternative energy solutions to help organizations increase efficiencies, compete and succeed.