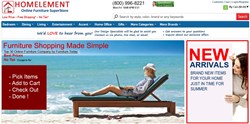 We take customer service so seriously and pride ourselves on making our customers feel as comfortable as possible with their purchase.
East Brunswick, NJ (PRWEB) August 09, 2013
Homelement.com was awarded the Excellent STELLAService Seal for outstanding customer service this past week. Through a rigorous evaluation, STELLAService has found Homelement.com to offer fast, friendly, and helpful customer service. Less than half of the thousands of companies evaluated by STELLAService qualify to display the Excellent seal.
Homelement.com specializes specifically in furniture sales and the entire customer support team is trained to be familiar with all aspects of the furniture industry, including terminology, materials, styles and more. The support team is easily reachable via telephone, live chat, or email and they pride themselves on having little to no wait time for a response. The customer support team encourages customers to contact them with any and all questions they have regarding their furniture purchase to make sure the customer is completely comfortable with making the purchase.
The customer support team has a wide range of knowledge on all of the furniture brands sold at Homelement.com and they use that knowledge to help customers plan out and decorate their rooms. This is especially helpful for customers who order sets from companies like Parker House Furniture which can have many different items in a set and leaves it up to the customer to decide what their room needs. When picking out the right items for a room, the customer support team takes all of the customers preferences into consideration and makes sure that the customer is getting exactly what they need to feel satisfied with the entire experience.
"We understand that shopping online may feel less secure than shopping at local retail stores, especially so for larger items such as furniture. That is why we take customer service so seriously and pride ourselves on making our customers feel as comfortable as possible with their purchase. We do this by going the extra mile for them, whether that means searching our catalog for their perfect item, contacting the manufacturer directly to get more information or just staying with them on the phone to make sure all of their questions are answered. Whatever it takes to ensure a comfortable and enjoyable online shopping experience for the customer, we do it."
About Homelement
Homelement.com is a leading retail supplier of stylish and elegant home furnishings with more than a dozen years of industry experience. Homelement offers the complete selection of home furniture from various brands such as Homelegance Furniture, Coaster Furniture, Parker House Furniture and many more.
Parker House Furniture can be found at Homelement.com here: http://www.homelement.com/Parker-House-Furniture-m-24.html
About STELLAService
STELLAService is an independent data and analytics company that rates the customer service performance of online businesses.
Find out more at: http://www.stellaservice.com/