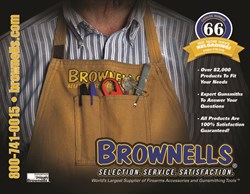 I'm really pleased with this one; it's the biggest and best we've ever done with more neat stuff than ever before.
Montezuma, Iowa (PRWEB) August 13, 2013
Brownells – The World's Largest Supplier of Firearms Accessories, Ammunition and Gunsmithing Tools™ – is proud to announce that Catalog #66, its largest ever, is now available.
The 696-page, all-things-guns "Big Book" is filled with the best, newest and most-innovative products for gunsmiths, competitors, hunters and gun enthusiasts of all types.
More than 2,000 new items, including 10 pages of reloading supplies and two pages of night-vision products, are included in this year's edition. The AR-15/M16, Riflescope and Pistol sections have also grown significantly.
As always, Catalog #66 is presented in Brownells' signature horizontal format, and features color-coded edges and mini-indices to help readers easily find the 35 individual product categories – ranging from the popular AR-15/M16 and 1911 Auto sections, to Cleaning Supplies, Gunsmithing Tools – and everything in between.
"We're mighty excited about Catalog #66," said Frank Brownell, Chairman of Brownells. "The Big Book is a product of a year's-worth of input from our customers, and our gang here working hard to make sure we've got what they've asked for. I'm really pleased with this one; it's the biggest and best we've ever done with more neat stuff than ever before. Remember, if you've got the internet, please come to our website – Brownells.com – and enjoy all the extra stuff we've got there for you from how-to and product videos to sign ups for our regular emails and our monthly WebBench™ newsletter."
To receive a catalog, simply visit the catalog section of the website. Customers may also request one by calling 800-741-0015.
Founded in 1939, Brownells is an Iowa-based, third-generation family-owned company that supplies more than 82,000 firearms parts, accessories, reloading components, gunsmithing tools, and ammunition to armorers, gunsmiths, and shooters worldwide. In addition to their industry-leading 100% satisfaction guarantee - forever - on every product sold, their staff of veteran Gun Techs is available to assist customers with technical help to fix any gun-related problem – free of charge. There are no minimum order sizes, charges or return fees. To place an order, or for more information, call 800-741-0015 or visit http://www.brownells.com.