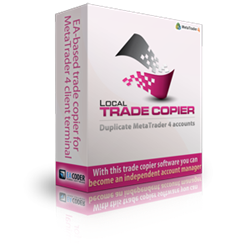 The new LTC 2.1 is the first EA-based trade copier in industry that allows to filter trades by MT4 indicators. It allows to create your own apps and control LTC to copy or not copy trades for certain pairs in real time by using Global Variables.
Lithuania (PRWEB) August 08, 2013
EA-Coder.com announced today that it has released the newest version of its revolutionary Forex trade copier program on July 29, 2013. Company officials are proud to be releasing these important updates as they will serve trading clients and account managers in greater ways than in the past.
EA-Coder.com officials expect this newest release will improve trader success and offer more in-depth control over the existing Local Trade Copier v2.0. The new Local Trade Copier v2.1 is the first account mirroring software for MetaTrader 4 platform that allows filtering of trades by time using on-screen rectangle objects.
The founder of EA-Coder.com, Rimantas Petrauskas, commented on this release and the new innovative feature of 'Time Filters': "I call them "time range filters". The time range is specified by drawing a rectangle object on the chart, this can be applied to both the master and the slave side. If you ever wanted to configure your trade copier program to not send or not receive any trades during a specified time period like during economic news releases, this is the feature you need. Any number of time ranges can be created on the master and slave accounts allowing you to avoid the copying of trades during any time of the trading day."
This new version release from EA-Coder.com is expected to meet with eager currency trader support. Local Trade Copier v2.1 is the first EA-based account copier in industry with these external trade filtering indicators. They allow copying trades only in the direction of indicators like Accelerator Oscillator, Awesome Oscillator, Bollinger Bands, MACD and Moving Averages. This new version will allow traders much greater control over all trade copying aspects with these new filters as well as the time and day range filters of version 2.1.
EA-Coder.com announced also that for the first time a 30 day free trial will be available on the Local Trade Copier version 2.1. The new enhancements have been built around the scientific testing as done by the company's lead programmer and are focused primarily on account equity protection and risk reduction.
More information is being released on the company's blog now since the official launch.
About EA-Coder.com
EA-Coder.com first opened in 2009 and has been serving currency trading clients for 4 years.
EA-Coder.com is a trading software development company that specializes in building a diverse range of Forex trading software. The goal of the company is to empower traders with the technology that helps them to be more profitable with their trading efforts.