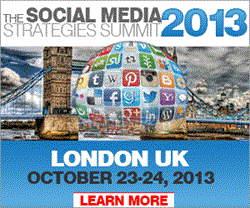 Dara Nasr, Head of Agency Sales UK, Twitter, will present on engagement across social channels at SMSS London
London, England (PRWEB) August 07, 2013
The Social Media Strategies Summit (SMSS), London, announces keynote speaker Dara Nasr, Head of Agency Sales UK, Twitter, to present on engagement across social channels, as well as speakers from LivingSocial and the Museum of London. SMSS London takes place 23-24 October, 2013.
Keynote speaker Dara Nasr, Head of Agency Sales UK at Twitter, joined the Twitter team in November of 2012, having previously worked at Google for 5 years overseeing key agency relationships for Youtube and Display. Dara will be opening up the Social Media Strategies Summit with his presentation on increasing consumer engagement through social channels. Dara will explore how brands connect with their consumers by conversation, tone of voice or via real-time planning, highlighting case studies and learnings of how to succeed in the field.
Peter Briffett, Managing Director of LivingSocial UK and Ireland, will be presenting on the changing psychology of the social shopper, introducing attendees to the potential of the social commerce industry including insights into the emerging psychology of this new breed of consumers and take away practical tips and advice to apply to their brands. Peter oversees LivingSocial's UK and Irish markets, communicating LivingSocial's core strategy and overseeing growth as the next great consumer brand. Based in London, Peter is responsible for LivingSocial's numerous markets in the UK and has developed a strong footprint in the UK & Irish group-buying space.
SMSS London has also confirmed Antony Robbins, Director of Communications at the Museum of London, who will be presenting a case study on the museum's digital journey as it re-positions itself from a hidden gem to a must see destination. Robbins has been Director of Communications at the Museum of London since July 2009, where he has overseen the You are Here PR campaign for the launch of the museum's £21m Galleries of Modern London. This campaign included the development of 'Streetmuseum', the Museum of London's first ever Smartphone app.
To assure attendees get the full benefit of an intimate summit, GSMI only offers a limited number of seats. Take advantage of our early bird registration deals to secure your seat. Group discounts are also available.
View the agenda and register for SMSS London on the website: http://socialmediastrategiessummit.com/london-2013.html.
About GSMI:
GSMI is a leader in the industry of executive education, creating conferences, summits, workshops and training sessions that combine rich learning environments with the opportunity to network with today's most relevant thought leaders, speakers and practitioners. GSMI's annual events have reached 70% of the Fortune 500 companies, in over 30 countries, covering topics that today's leaders find most challenging and inspiring.
MEDIA CONTACT:
Suzy Slater
suzysclater(at)ems-ltd(dot)org
+44 208 363 6236