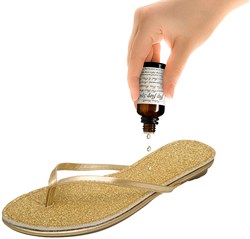 Help Michele make footwear history with her revolutionary new product!
Wallingford, CT (PRWEB) August 07, 2013
In 2010, Michele Candella, a young mother of four, developed the most exciting new footwear product to come along in years -- the Flip Flop Spa. A new promotional concept developed by Walmart is helping her and thousands of other inventors get noticed by Walmart customers nationwide, providing the ultimate audience and test market.
.
Products were submitted to Walmart by linking a You Tube video to Walmarts "Get on The Shelf 2013" Contest Site. On August 6th, Walmart announced the products that made it to the next round, where Walmart's customers will vote daily through September 2nd on the products they like best. This process of selection is termed crowdsourcing.
Crowdsourcing is a relatively new concept that is creating a lot of buzz in the business community. It has served as a way for entrepreneurs to get great ideas and concepts moving forward by providing needed funding and exposure. One can audition their concept to thousands of people. People who may provide critical elements such as capital, marketing, engineering, and even sales representation.
The value of crowdsourcing is that ultimately, an idea is vetted by the people its principal is trying to reach, versus an intermediary, such as a big box retailer or corporate buyer. Thousands of inventors are participating in this year's competition and love the fact that their product is not exploited in a boardroom or watered down because it has to meet a specific retail price point.
With Michele's product, the Flip Flop Spa, it provides users a way to cleanse, exfoliate, moisturize, and soothe their feet just by wearing a pair of Michele's attractive flip flops!
The product utilizes an interchangeable non-slip surface yet absorbent pad that releases a limited amount of provided essential oils to the surface of the pad with each step. The non-slip surface naturally exfoliates dead skin and reduces calloused skin as well. After each use, simply remove the pad, wash it, and replace once dry to use it again.
Virtually everyone who has tried the Flip Flop Spa has loved it. It has been featured at trade shows and media events. The cast of Dancing with the Stars used it off-screen, in between dances. And the Today Show devoted an entire segment to it. Kathy Lee Gifford, Hoda Kotb, and Bobbi Thomas raved about the product and wanted to wear Flip Flop Spa's of their own.
As a result of all this exposure, the Flip Flop Spa began selling like hotcakes. Offering the product on her website, and through a few select boutiques, salons, and spas, Michele couldn't keep her flip flops in stock.
In spite of this success, however, most people have been unable to try the Flip Flop Spa because most people have still never even heard of the Flip Flop Spa. Like many other product inventors, Michele struggles to choose how to utilize a small budget to get her product out to the masses. With this years crowdsourcing based competition that could be about to change!
Walmart has given Michele the chance of a lifetime with their "Get on the Shelf Contest". This Contest is like an American Idol competition for new products. Contestants submit videos describing their products, which are then posted on the Internet. Customers can view the videos and then vote for the products they like best. The products that receive the most votes will be offered for sale at Walmart stores and on the Walmart website!
Michele has always wanted to offer her product in retail stores around the country. She believes that, if customers see the Flip Flop Spa in person, and understand how it works, they will buy it and their feet will enjoy it immensely. Wearing the Flip Flop Spa is such an easy way to give your feet the attention they deserve. There are very few products that proactively maintain the health of your feet, which often are exposed daily to routine wear and tear. Her product provides relief to people on their feet all day!
If the Flip Flop Spa wins the Walmart contest, millions and millions of Walmart customers will receive the opportunity to try Michele's product and find out for themselves how well it works.
For a change, consumers and not corporate buyers, can play a key role in this. Michele needs the publics help.
Please watch Michele's video https://getontheshelf.walmart.com/product/196b/the-Flip-Flop-Spa and then vote for Michele and her Flip Flop Spa in the Walmart contest.
The voting runs through September 2nd, 2013. After voting ends, the finalists will be featured in a professionally produced documentary and the products will be available on Walmart.com and in select Walmart stores.