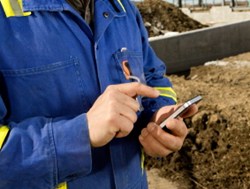 This new release offers complete issue management and provides greater access to documents in the field
Reston, VA (PRWEB) August 07, 2013
LATISTA Technologies, the leader in field management solutions for construction, has introduced their new version 2.1 app to the iPhone. LATISTA for iPhone will have the same digital issue management tools already on the iPad. LATISTA for iPhone is available in the App Store for a free download and trial. Watch a demonstration on how the market-leading app improves communication between project team members.
According to a published ENR study, 50 percent of general contractors and 49 percent of sub-contractors use iPhones at construction sites. In LATISTA for iPhone, general contractors and sub-contractors will have the ability to manage quality, safety, punch lists and commissioning issues. Additionally, they will be able to access and markup documents from their iPhone.
"We are excited to put the number one enterprise construction collaboration app into the hands of more users in the field, shortening projects' issue-resolution time," according to Chris Ramsey, chief executive officer (CEO) at LATISTA. "This new release offers complete issue management and provides greater access to documents in the field."
Users can communicate project issues via text, calls and emails right from the iPhone app. Using the app, responsible parties will be able to electronically capture issues, review project drawings and quickly resolve issues from the iPhone. A short demonstration of LATISTA for iPhone can be watched here.
Features and capabilities in the new app include:
Project Documents and Mark-ups
Synchronize project documents directly to the iPhone to view project drawings and create the mark-ups that make identifying and resolving issues easy.
Photos and Photo Mark-ups
Take photos, add mark-ups and attach them directly to issues. Accurately capture defects and document progress or record RFIs.
Text Message Expediting
Send issue details directly to sub-contractors through an SMS message and get them resolved quickly, regardless of whether or not they are using LATISTA for iPhone.
Contact-List Quick Actions
Call and text project contacts directly from the contact list in LATISTA for iPhone, making communication quick and direct.
Managed Workflows
Synchronize custom workflows and permissions directly from the LATISTA cloud solution, giving users complete control over their project.
With this new release, LATISTA continues to deliver market-leading field management software that lowers costs, reduces rework, and eliminates delays.
Published ENR study: Bernstein, Harvey and Russo, Michele. "Mobile Tools Boost Productivity on Jobsites." ENR Contractor Business Quarterly. September, 2012.
About LATISTA:
Unparalleled in the industry, LATISTA's (http://www.latista.com) mobile and cloud software delivers field management solutions for construction. LATISTA's current customers already include Fortune 100 capital project owners and top 100 general construction and engineering firms. LATISTA's customers attest that their use of LATISTA has led them to higher quality production, lower costs and reduced legal and financial risks.