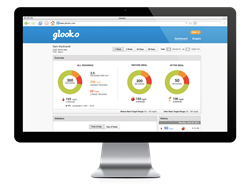 This FDA submission is a continuation of our mission to expand the power of a unified diabetes management to as many impacted stakeholders in diabetes as possible.
PALO ALTO, Calif. (PRWEB) August 07, 2013
Glooko, Inc., makers of an innovative mobile solution for diabetes management, today announced it has submitted a 510(k) application to the U.S. Food and Drug Administration (FDA) seeking clearance of its Diabetes Management System for Android. In May 2013, Glooko announced that it received FDA 510(k) clearance for its next-gen Glooko iPhone application for the Glooko System; their first generation product for iPhone received FDA 510(k) clearance in December 2012.
By adding an additional mobile platform through the Glooko System for Android, Glooko provides a diabetes management platform that is able to potentially reach millions of people with diabetes According to a recent report by comScore on key trends in the smartphone industry, Android is ranked as the number one smartphone platform with 52% market share in the US and 65% in Europe. With smartphone platform expansion, Glooko is able to provide healthcare professionals with increased access to a reliable and accurate set of tools and analytics across their diabetes population.
"Keeping a logbook is crucial to successful diabetes management, and we are committed to making the process easier and more effective for patients and healthcare professionals," said Rick Altinger, Glooko CEO. "The Glooko Diabetes Management System was developed to efficiently download multiple blood glucose meters that patients already own to automatically generate logbooks, charts, and graphs viewable on both a patient and provider web dashboard. This FDA submission is a continuation of our mission to expand the power of a unified diabetes management to as many impacted stakeholders in diabetes as possible."
Regularly checking and logging blood glucose levels is one of the most important elements of successful diabetes management and provides insight into how lifestyle events affect blood glucose levels. A glucose log helps patients and their healthcare team to make informed decisions about therapeutic adjustments that may be required and provides early warnings about when blood glucose is trending high (hyperglycemia) or low (hypoglycemia). Improved diabetes management has the potential to diminish emergency hospitalizations due to diabetes complications, which cost the United States 58 billion dollars annually .
Glooko's Diabetes System for Android, while still pending FDA 510(k) clearance, will be available for demonstration at the American Association for Diabetes Educators (AADE) Annual Meeting and Exhibition at Booth #427 in the Exhibit Hall. The Glooko system will also be available for viewing in the Emerging Tech Pavilion at Kiosk #2. In addition, AADE attendees can learn more about the Glooko Diabetes Educator Program, a loyalty program designed to help educators connect in a more meaningful way with their patients by using the Glooko System in their practices.
To learn more about Glooko, visit the site at, http://www.glooko.com
About Glooko
Glooko™ is an innovative Silicon Valley startup with a unique solution for people with diabetes. Glooko's products – Glooko app for iOS devices and MeterSync Cable – enable people with diabetes to easily collect, view and share the information needed to help them successfully control their blood glucose readings. It has been hailed by users and industry influencers for its ease of use and ability to deliver context to daily data collected by people with diabetes on both a mobile and web-based platform. The company was founded in 2010 by technologist Yogen Dalal and mobile and web app developer, Sundeep Madra. Endocrinologist Michael S. Greenfield, M.D., is chief medical officer. The company's first generation product received FDA 510(k) clearance in December 2012. Many on the Glooko team, including the founders, have a personal connection to diabetes. Glooko is backed by several Silicon Valley innovators including former Facebook, Apple and Cisco executives. Together they are committed to helping people with diabetes live their lives, while effortlessly managing their diabetes.