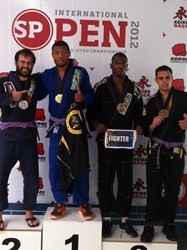 They're both two of our top competitors.

- Julius Park, Coach
Baltimore, MD (PRWEB) August 08, 2013
Timothy Spriggs and Tye Murphy of Crazy 88 Brazilian Jiu Jitsu will compete in the Sao Paulo Open in Sao Paulo, Brazil on August 24.
Brazilian Jiu Jitsu is a grappling sport similar to wrestling which also uses submissions. It is recognized around the world with tournaments being held at the international level. The International Brazilian Jiu Jitsu Federation (IBJJF) is the largest sanctioning body for the sport.
Events hosted by the IBJJF are considered the most elite level of competition the sport has to offer. The largest tournaments are the European Open, Pan American Championships, Brazilian Nationals and the World Championships.
After the finish of the 2012 season in June with worlds, the Sao Paulo Open signifies the kick-off of the 2013 season for the Crazy 88 competition team. Both Spriggs and Murphy finished the season strong.
Despite an injury and being unable to compete in the final two tournaments of the season, Spriggs still finished as the #1 Ranked Purple Belt while Murphy went on to win gold at the World Championships.
Both Murphy and Spriggs have been promoted and this will be the Brown belt debut for each of the seasoned competitors. Julius Park, Head Instructor, said of the two, "They're both two of our top competitors. This will be an exciting season for both of them as the competition becomes tougher and their skill sets advance. This tournament marks the beginning of that for both of them."
To learn more about the competitors and other upcoming events visit http://www.Crazy88BJJ.com or call (443) 283-1450.