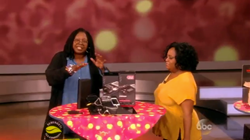 I love AViiQ because it enables me to carry one thing, I just need to take this and I can charge everything.
Santa Ana, California (PRWEB) August 07, 2013
The AViiQ Portable Charging Station was featured in the August 6th, 2013 episode of syndicated morning television talk show, The View on Whoopi's segment "Whoopi's Favorite Things". In Whoopi's Favorite Things segment of the show (http://abc.go.com/shows/the-view/blogs/home/whoopi-favorite-things), Whoopi shares with her audience a few of her favorite things that she loves and uses everyday.
In the segment, Whoopi Goldberg introduces the AViiQ Portable Charging Station which she says is the perfect travel companion for the type of person or family that has several devices that needs to keep charged. "I love AViiQ because it enables me to carry one thing, I just need to take this and I can charge everything," says Whoopi. The AViiQ Portable Charging Station is available at http://www.aviiq.com with a variety of options and features and priced from $59.99 to $119.99. Additionally, for the entire month of August 2013 AViiQ will donate a portion of the proceeds from sales on aviiq.com to A BroaderWay Foundation (http://www.abroaderway.org).
About Whoopi
Whoopi Goldberg is one of the co-host of the ABC's most popular morning talk and entertainment program along with Barbara Walters, Joy Behar and Sherri Shepherd. In 2002 Whoopi Goldberg became one of a very elite group of artists who have won the Grammy (Whoopi Goldberg, 1985), the Academy Award (Ghost, 1991), the Golden Globe (The Color Purple, 1985 and Ghost, 1991), the Emmy (as host of AMC's Beyond Tara: The Extraordinary Life of Hattie McDaniel, 2002) and a Tony (producer of Thoroughly Modern Millie, 2002). In August 2009, Ms. Goldberg added a Daytime Emmy to her roster for The View. She is equally well known for her humanitarian efforts on behalf of children, the homeless, human rights, education, substance abuse and the battle against AIDS, as well as many other causes and charities. Among her many charitable activities, Ms. Goldberg is a Goodwill Ambassador to the United Nations.
About The View
The View, recipient of the 2003 Daytime Emmy® Award for "Outstanding Talk Show," is ABC's popular morning talk and entertainment program, featuring a team of dynamic women of different ages, experiences and backgrounds discussing the most exciting events of the day. The program has received critical acclaim since premiering August 11, 1997. It's broadcast live weekdays from New York City (11:00 a.m.-12:00 noon, ET; CLOSED-CAPTIONED; broadcast in stereo; TV-14).
About AViiQ
AViiQ adheres to the tenet that form should follow function. Founded to create consumer mobile electronic accessories that maximize productivity through enhanced functionality and high-end design, AViiQ offers the finest in function and style. Laptops revolutionized the computer world by adding the freedom of mobility and AViiQ transforms that freedom into power. For more information about AViiQ please visit http://www.AViiQ.com
For additional information on this and other AViiQ products, please contact AViiQ PR at alan(at)aviiq(dot)com or at (949) 515-8840. Follow AViiQ on http://www.facebook.com/aviiq for current social updates.