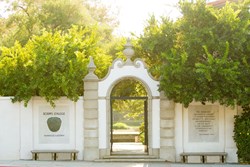 Claremont, CA (PRWEB) August 07, 2013
Scripps College appears this year on four Top-20 lists in The Princeton Review's "Best 378 Colleges" guide. The campus was recognized for "best career services" and "best quality of life."
"The strength of Scripps' academic program and remarkable faculty, supported by robust career services, prepares our students to be leaders in their chosen fields," said Scripps College President Lori Bettison-Varga.
The College ranked #18 for "best career services," #14 for "best quality of life," #9 for "most beautiful campus" and #6 for "best college dorms," according to The Princeton Review's annual flagship book.
Only about 15 percent of America's 2,500 four-year colleges and only four colleges outside the country were included in this year's book. The Princeton Review compiles its rankings based on survey responses from 126,000 students attending the 378 schools. Scripps College has routinely been recognized by the publication for its academic excellence, engaged faculty and beautiful campus. Students commented on various factors related to their campus experience, including the accessibility of professors to the quality of life, recognizing that:

The workload can be "challenging … rigorous, and sometimes daunting," but professors are "always willing to meet with you and help you."
Students at Scripps are politically minded women who are "very critical of the world around them and love to use the knowledge they gain in class to examine society in new ways."
The annual college guide listed biology; politics/international relations; psychology and English as the most popular majors for Scripps students.
"The Best 378 Colleges," the 22nd edition of The Princeton Review's annual "Best Colleges" guide, is one of 150 Princeton Review books published by Random House in a line that also includes test-prep guides for the ACT, SAT and AP exams.