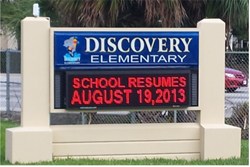 The teachers, students, administration staff, PTA, and others will have a new pleasant surprise when they return.
Sunrise, FL (PRWEB) August 07, 2013
It all started when a talented young man named Chandler Grey Dillard and two friends started doing show cards in the Navy while stationed in Hawaii. When the three got out of the Navy, they brought their talents home to Fort Lauderdale, FL and opened 'Modern Art Sign Company'. This simple vision not only brought about a new sign company, but help for a new vision at a local elementary school. The recent installation of a LED sign at the Discovery School facility in Sunrise, FL capped a multi-month project. It started with Art Signs being selected as the source vendor for the sign project and culminated with the modernization of the school's on-premise outdoor information system.
Discovery Public School, located at 8800 NW 54 Ct, is a K through grade 5 with approximately 864 students in attendance. Ms. Angela R. Fulton is the proud principal and leader of the school, while Ms. Julie DeGreeff holds the vice principal position.
The vision of Discovery School is to "provide quality education through state of the art technology" and this vision is proudly trumpeted on their website. The inclusion of this state of the art LED sign, a Phoenix™ Full Color LED Sign Series from U.S. based LED display manufacturer Vantage LED, is in sync with this vision. The sign was provided and installed by Art Signs.
"The informational benefits of an LED Sign are obvious," stated Fred Shuaibi, Project Manager for Art Sign Company, "but especially for a local school. Parents, teachers and the entire community can be instantly aware of meetings and other hot topics that pertain to the campus or the students."
"The school can save time and resources by utilizing the professional content creation that comes with the SM Infinity™ software," Fred continued, "They can order a new message from their computer or iPad and the new ad will be produced and uploaded to the sign. When budgets are tight, every nickel counts, and not having to waste time in-house to make new messages is a plus. All system software is cloud-based, so there is no need for CDs and no worry about the customer losing their software."
The advantages and efficiency of the cloud-based SM Infinity™ software didn't go unnoticed by Vice Principal Ms. Julie DeGreeff during the recent on-site training and orientation session.
Ms. DeGreeff summarized the new LED display succinctly with "Thanks so much. We love it!"
Fred concluded, "The teachers, students, administration staff, PTA, and others will have a new pleasant surprise when they return. We just completed testing and project finalization last week with the help of James Anderson, one of our Southeast Regional Reps for Vantage LED."
About Art Signs:
Art Sign Company is the oldest sign company in Broward County (Fort Lauderdale) Florida. Since 1947 they have grown tremendously. With more than 100 employees and over 100,000 square feet of facilities, Art Sign Company is the largest in the region. Three primary functions include: sign design, fabrication, installation and service. Art Signs is located at 835 NW 6 Avenue, Fort Lauderdale, FL 33311.
About Vantage LED:
Vantage LED was founded by developing a high caliber scalable product coupled with great relationships nourished by valuable resources and real human support. After 10 years of streamlined manufacturing and efficient operation, U.S. Based LED Sign Manufacturer, Vantage LED, is becoming a long trusted manufacturing arm in the led sign industry for serious dealer and OEM partners.