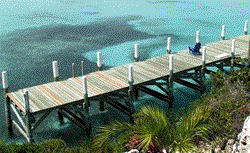 Our vacationers are the corporate executives and small business owners of the world. Once they step into our luxury homes they let go. For the time that they're here with us they completely unplug.
(PRWEB) August 07, 2013
Abaco Club Homes, leading provider of luxury rentals in the Bahamas frequently hosts travelers from around the world. Through and through, the many guests that choose to call the Abaco residences their home gush about how easy it is to relax on the private beaches and finally unplug from the daily rat race of the corporate world. Our valued guests have achieved what many in the United States struggle to grasp; work/life balance.
On the white sandy beaches of Abaco, it is difficult not to bask in the sun and enjoy every moment in paradise. Unlike the tourist-laden destinations of Nassau and Paradise Island, Abaco provides a true secluded, luxury experience. The homes are situated on the premises of The Abaco Club on Winding Bay, a private club surrounded by a 2 ¼ mile pristine beach and award winning Scottish-style tropical links golf course. Abaco Club Homes provides a personalized vacation experience in an idyllic setting unlike the mega resorts that are typically found in other Caribbean locations. Abaco Club Homes offers some of the most prized rental properties in the Bahamas.
"Our members and guests are corporate executives and business leaders from all over the world who are looking for a way to relax and unwind from their busy schedules. Abaco is the perfect setting to enjoy special times with family and friends; whether it is a full day of outdoor pursuits or simply relaxing on the sundecks overlooking the beach, Abaco Club Homes provides the perfect getaway," said Melanie Spivak, CEO of Abaco Club Homes.
According to the Huffington Post, 61 percent of employed vacationers plan to work on vacation this year; up from 52 percent in 2012. Staying up to date with email is among the top work related concerns followed by wanting access to work documents and being able to receive work calls and texts. It's clear that the state of work/life balance is not what it used to be. Vacation is a necessity; spend it in luxury with Abaco Club Homes.
About Abaco Club Homes:
Abaco Club Homes, a member-owned and managed organization, offers luxurious rental homes in the Bahamas. The homes are located on the premises of The Abaco Club on Winding Bay, an exclusive international sporting club located on Great Abaco Island near Marsh Harbour, The Bahamas. The meticulously appointed one-of-a-kind residences, ranging from 2 to 4 bedrooms maximize ocean and beach views from expansive decks and provide spectacular sunrise and sunset vistas. Guests enjoy an extraordinary island experience accentuated by the memorable hospitality of the Abaco Club Homes' staff and local residents alike. Abaco is a place where you can feel relaxed and reconnect with family or friends. Our guests enjoy the simplicity of island life with warm friendly smiles greeting them at every turn. They also appreciate that any direction they face from their Abaco Club Home is a picture perfect postcard. Guests of Abaco Club Homes also enjoy the added benefit of access to the private member's club facilities including two miles of secluded pink sand beach, an award-winning Scottish-style tropical links golf course, a full-service spa, fitness center, croquet lawn and an infinity-edge pool overlooking the pristine Winding Bay. In addition to local fare, two dining options are available at Winding Bay including Busters on the Beach and open-air dining at the Clubhouse. Abaco Club Homes located at The Abaco Club on Winding Bay will welcome you to a new way of life…Barefoot Luxury.