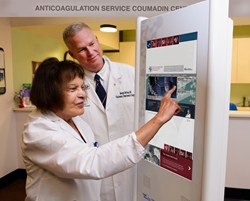 Cryoablation is one of the many innovative and minimally invasive treatments for A-Fib offered at The Heart Institute.
Staten Island, NY (PRWEB) August 08, 2013
The Heart Institute's Medical Director and Cardiac Surgeon, Joseph T. McGinn along with the Director of Electrophysiology, Soad Bekheit, unveiled their first interactive kiosk displaying educational content on atrial fibrillation (A-fib). The kiosk is displayed in their Anticoagulation Service Coumadin Center and features videos about the advanced A-Fib solution,Cryoballoon Ablation (Cryoablation).
A-Fib is the most common and undertreated form of arrhythmia that currently affects about 2 million Americans each year. This type of arrhythmia is due to delayed electrical signals that cause the heart to contract at an abnormal rate. In most cases, patients are treated with pharmaceutical options, which include blood thinners, such as Coumadin (warfarin), rate control drugs and anti-arrhythmic drugs. However, many of these medications require a daily intake and have strong side effects such as abnormal profuse bleeding internally or externally along with other adverse health reactions.
Cryoablation is one of the many innovative and minimally invasive treatments for A-Fib offered at The Heart Institute. Electrophysiologist, Dr. Marcin Kowalski, who performs this procedure at the Heart Institute, was the first doctor in the tri-state area to perform the cryoablation right after FDA approval. When conducting this procedure, a freezing air that reaches -70°C is released in the pulmonary vein to target the abnormal electrical signals that encourage heartbeat irregularities. A balloon-like tool used in this procedure allows the vein to be closed off from any new erratic signals while also releasing a large amount of freezing air that ablates current irregular signals to the heart.
Restoring a healthy heart rhythm through the use of cold air is known to be less disruptive to the cardiac tissue and the surrounding internal body elements. The medical devices used in this procedure were approved by the FDA after a study demonstrated that 70 percent of patients treated with cryoablation were free from A-Fib at one year, compared to 7 percent of patients who proceeded with a pharmaceutical treatment.
The Heart Institute also offers other treatments to A-Fib such as Cardioversion, Maze Procedures, PVAI (Pulmonary Vein Antrum Isolation), and AV Node Ablation. For more information, The Heart Institute, Dr.Marcin Kowaslki, Cryoablation or other A-Fib treatments please contact Richard A. Clarke at 917-868-1407 or RClarke(at)TheHeartInstituteNY(dot)com.
------
About The Heart Institute
The Heart Institute opened in 2001 and operates at the North Campus of Staten Island University Hospital at 475 Seaview Avenue. It is one of the nation's leading heart hospitals known for its pioneering techniques in heart surgery, angioplasties and electrophysiology (A-fib) in addition to its most advanced diagnostic technologies, post-surgical outpatient care and cardiac prevention programs. Procedures include coronary bypass operations, heart valve repair/replacements, angioplasties, cardiac ablations and cardiac catheterizations. Staten Island University Hospital is a member of the North Shore – LIJ Health System.