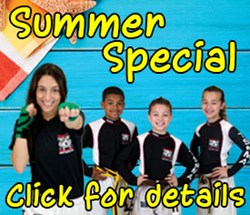 Elmwood Park, NJ (PRWEB) August 08, 2013
Now that Summer is in peak and people are looking for a fitness maintenance program, Tiger Schulmann's Mixed Martial Arts launches a membership campaign with discounted prices and some free gear.
Beginning in July, we celebrate the arrival of Summer and people tend to be more conscientious about their appearance.
For many years, Tiger Schulmann's Mixed Martial Arts has been sensitive to this trend.
"People are no longer bundled up. They're out playing sports, soaking up rays at the beaches and lakes, and they want to be in peak condition for all the activities they will be participating in," says Alon Feder of Tiger Schulmann's. "After losing the winter pounds through a fitness program, it's time to maintain ourselves, build strength, endurance and flexibility, and also learn to defend yourself at the same time."
Tiger Schulmann's emphasizes authentic kickboxing as the most effective way to maintain conditioning, stay in shape and develop a lifelong, instinctual skill of being able to defend one's self should the need ever arise at any point in the future.
For the "Summer Kickboxing" campaign, Tiger Schulmann's will be printed ads, posters and fliers, plus a full-court social media blast. The campaign launched on July 1, 2013 and expire on August 15.