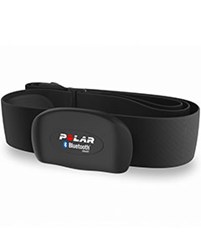 This pick was a no-brainer because Polar offers a tremendous app in the Polar Beat App plus better gym equipment integration than any manufacturer out there by a long shot
Bozeman, MT (PRWEB) August 10, 2013
The Polar H7 has been named the best Bluetooth Smart heart rate monitor strap for iPhone 5 and 4S for 2013 according to the Heart Rate Watch Company.
"This pick was a no-brainer because Polar offers a tremendous app in the Polar Beat App plus better gym equipment integration than any manufacturer out there by a long shot," says Rusty Squire, President of the Heart Rate Watch Company.
Lots of manufacturers including Polar, Wahoo, Panobike and others make Bluetooth Smart heart rate transmitters and straps aimed at the iPhone market but most can't match Polar's standard at all for apps and integration according to Squire.
ITS ALL IN THE APP
Apps are the software driving the train when it comes to exercise and, in this regard, nobody has the experience that Polar has developing software and heart rate monitors over the past four decades.
"These guys invented the heart rate monitor back in the late 1970's so they are decades of human performance lab testing and development ahead of the upstarts," says Squire.
"In our opinion there is no better fitness app on the market today for iPhone than the Polar Beat App because it incorporates all of Polar's advanced heart rate features like a Fitness Test and heart rate analysis," says Squire.
"There are all kinds of fitness tools out there for iPhone that are hyped by the latest Johnny-come-latelies but when it comes to time honored training discipline Polar rules the roost," says Squire. He adds, "We've carried Polar for years because it is the standard in heart rate based training technology from the new Polar RC3 GPS to the Polar H7."
EXPERT ADVICE AND COMPLIMENTARY FITNESS BOOKS
The Heart Rate Watch Company tests all its products like the Polar H7 and offers live access to expert testers at 866-586-7129. The company also gives two complimentary fitness books entitled "How To Successfully Use A Heart Rate Monitor" and "How To elevate Fitness With Strength and Interval Training" to all customers.
The Polar H7 Bluetooth Smart chest strap for iPhone 5 and 4S is available at the best possible pricing at the Heart Rate Watch Company along with a complete line of Polar heart rate monitor products.