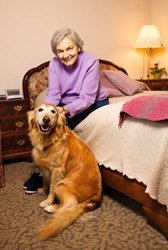 As vision declines, the risk of falling increases, and up to 40 percent of nursing home admissions are due to falls or fear of falling.
Neenah, Wisconsin (PRWEB) August 07, 2013
In support of Cataract Awareness Month in August, the American Academy of Ophthalmology urges seniors to be aware of the dangers of ignoring cataracts, which can lead to injury and permanent blindness. Lynn Wilson, Founder of The CareGiver Partnership, a national retailer of incontinence supplies and other home health care products, says seniors often can continue to live safely at home while undergoing cataract treatment or managing low vision.
"As vision declines, the risk of falling increases, and up to 40 percent of nursing home admissions are due to falls or fear of falling," says Wilson. "Whether a senior is preparing for, or recovering from, cataract surgery — or simply suffers from impaired vision not related to cataracts — here are four areas of focus for those who need help living safely at home."

Preventive health: A senior's regular exams should include vision, including a check of eyeglasses to make sure they fit properly, as well as blood pressure, balance and gait.
Home design: A home designed for someone with low vision includes bright lighting, pathways free of furniture and cords; visual contrast between floors and walls; nonskid flooring, and bathroom safety devices such as grab bars and raised toilet seats.
High-tech assistance: Monitoring and safety devices — such as large-button phones with talking caller ID, wearable emergency communications devices and fall monitors — provide peace of mind.
Self help through education: "It All Starts With a Fall — Your Guide to Help Prevent Falls" helps readers identify and correct fall hazards in their homes and yards, teaches about personal safety tools that can make living at home a success, and offers instructions for what to do if they fall. A free copy, along with valuable coupons for fall prevention products, is available from The CareGiver Partnership.
Cataracts — the clouding of the eye lens — will affect more than half of all Americans by the time they are 80 years old, according to Prevent Blindness America. Adults 65 and older should have regular eye exams to check for cataracts and other eye diseases.
The CareGiver Partnership is a national direct-to-consumer retailer of home healthcare products for incontinence, diabetes, nutrition support and more. In its seventh year of providing products and services that help caregivers and loved ones maintain personal dignity, the company also offers an online library of more than 1,400 family caregiver resources and personal service by experts in caregiving. Call 1-800-985-1353 or visit online at http://www.caregiverpartnership.com.