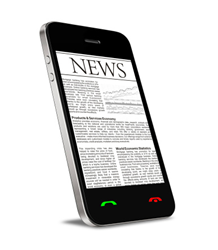 ...make sure your regular web site automatically redirects mobile browsers to your mobile web site...
Orange County, CA (PRWEB) August 08, 2013
For companies that haven't yet considered it, the time to invest in a mobile website may be at hand. As reported on http://www.mobify.com, 58% of all Americans own a smart phone. More than 1.2 billion people access the web using a mobile device. And mobile traffic now accounts for 15% of all global Internet traffic.
According to Bop Design, an Orange County web design agency, these numbers would seem to indicate that developing a mobile version of their website should be a no-brainer for most companies. However, the decision depends on several factors, including the type of business, the company's sales process, and how customers access their web site.
"Before doing anything, use Google Analytics to determine whether or not your target market regularly visits your website using a mobile device," recommends Jeremy Durant, a principal in Bop Design. "If not, don't waste time designing and building something your customers won't use. If so, it's important to understand the differences between regular and mobile websites."
Most traditional websites don't work well on mobile devices. They don't load quickly, display properly, or navigate easily, which can frustrate prospects and customers. Worse, it may drive them to a competitor with a better mobile site. In contrast, a mobile website is a separate version of a company's primary website that has been optimized to work on all mobile devices. Given the smaller screen size inherent with mobile devices, this typically includes:

Larger buttons that can be easily activated with the fingers or thumb (think "tappable" versus clickable)
Simpler navigation
Less text with larger font sizes that are easier to read
Click to call/email buttons
Maps and directions to the company's place of business
Companies should start by checking what their current site looks like when viewed on a mobile device. A web search on "test what my website looks like on mobile" will turn up many free tools for doing this. If the text on a regular website is difficult to read, or people have to scroll to view the whole page, then a mobile website in order. When building it, companies should follow the three "easy" rules:
Easy to access. Smart phones give customers the ability to make purchasing decisions anywhere at any time. These are often spur-of-the-moment decisions. So in addition to providing easy access, a mobile website should also be designed to make the mobile buying experience as seamless as possible. At minimum, it should include call or email buttons so people can contact the business with their smart phones if necessary.
Easy to search. Research shows that a large percentage of mobile web surfers use their smart phones to read content, search for places to eat or shop, and find coupons to help them save money. These customers may not know exactly what they're looking for, so the higher the mobile site's search rankings, the better.
Easy to use. People are used to fully functional, easy to navigate websites on their PCs. They want the same experience on their mobile devices. That means keeping file sizes small for fast loading, minimizing special effects (no Flash!), and page layout designed for small screens. A single-column layout helps to manage limited space and makes it easier to scale between different device resolutions. Companies that have a lot of information to present should consider using collapsible navigation that allows browsers to tap on the content they want to see while hiding what they don't.
"Most important, make sure your regular web site automatically redirects mobile browsers to your mobile web site," adds Durant. "There's no point in having a mobile website if people can't find it."
About Bop Design
Bop Design is a boutique marketing communications firm headquartered in Orange County and San Diego with offices also in the New York metro area. We express a business values through branding, advertising, design and web design. We also help attract a firm's ideal customer through search engine optimization and search engine marketing. The marketing firm's focus is on small businesses that want an external team of marketing specialists to help give their brand an edge in the marketplace.