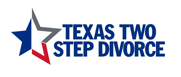 Dallas, TX (PRWEB) August 07, 2013
In a move designed to live up to its name, TexasTwoStepDivorce.com has unveiled their process for individuals to file an uncontested divorce without a lawyer, and it really does involve just two steps. The attorneys behind TexasTwoStepDivorce.com know that lawyers are unnecessary to draft and file divorce papers in many cases that do not involve issues of property settlement or child custody. In Texas, any individual can obtain the divorce papers and file on their own, saving themselves thousands of dollars. And no one makes it easier than TexasTwoStepDivorce.com.
TexasTwoStepDivorce.com offers access to the proper paperwork in a simple two-step process for a flat fee of only $125. The first step is visiting TexasTwoStepDivorce.com, where clients fill out a user-friendly and secure questionnaire. TexasTwoStepDivorce will then populate the divorce forms with the answers given to assemble personalized and ready-to-file forms.
The second step in the process is to download these personalized forms, review them, then sign and file. It's really that simple. All one needs to qualify to file these papers on their own is Texas residency and an uncontested filing. In Texas, an uncontested divorce occurs when both parties to the divorce agree completely on the terms of the divorce and there are no contested or outstanding issues. The only other requirement is that the individual filing for the divorce can easily locate the spouse who will agree to the personal filing without an attorney.
For those who have no issues and who are eager to move forward, these downloadable forms are convenient and economical. The cost of generating and downloading the forms is a flat fee of $125 and that compares very favorably to the $250 per hour one would pay an attorney to handle a divorce. In the instances of a contested divorce or a divorce that involves complex financial or custody issues, TexasTwoStepDivorce.com recommends that the individuals seek legal counsel, and might be able to recommend counsel in their area.
To learn more, visit the TexasTwoStepDivorce.com. Interested parties can also send the company a quick note by using the built-in form on the website's "Contact Us" page.