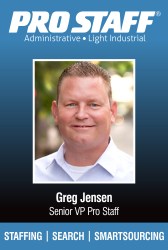 I am very pleased to have Matt join our Pro Staff/Atterro leadership team. His accomplishments in the Des Moines office during the past two years have been impressive.
Minneapolis, MN (PRWEB) August 07, 2013
Pro Staff, an Atterro company, has elevated Matt Johnson to the position of Managing Director of Pro Staff in Des Moines, Iowa. In his new role, Mr. Johnson is responsible for managing account development and service delivery, as well as promoting the value and services Pro Staff offers to both customers and talent. In Central Iowa, Pro Staff provides administrative; finance and accounting; information technology and light industrial staffing.
Mr. Johnson has more than 10 years of experience in sales and business development, primarily in the field of sports and entertainment. He joined the Pro Staff team two years ago, focusing on establishing new customer relationships as well as diversifying its core business. As Managing Director, he will oversee the Des Moines office while continuing to drive new business for Pro Staff in Central Iowa.
Greg Jensen, Senior Vice President at Pro Staff, said, "I am very pleased to have Matt join our Pro Staff/Atterro leadership team. His accomplishments in the Des Moines office during the past two years have been impressive." He added, "All the signs point to continuing success in his new position as Managing Director."
Atterro Human Capital Group offers interim staffing, search and SmartSourcing services to local, regional and national customers. Atterro's experienced industry professionals utilize the latest research, recruiting technology and assessment tools to serve clients through its five specialty brands—Digital People for Creative, Interactive and Marketing, Hunter Hamilton for Finance and Accounting, Pro Staff for Administrative and Light Industrial, Technical ProSource for Information Technology, and Ware Technology Services for Engineering. Visit http://www.atterro.com
Contact:
Steve Brentlinger
Marketing Director
email: Steve.Brentlinger(at)atterro(dot)com
ph. 612‐373‐2600
Atterro Human Capital Group
651 Nicollet Mall, Suite 525
Minneapolis, MN 55402
http://www.atterro.com