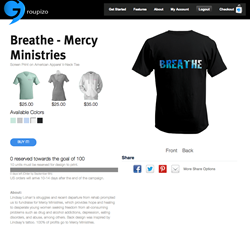 Chicago, IL (PRWEB) August 08, 2013
Tabloid favorite Lindsay Lohan is out of rehab yet again. Could this be a come-to-Jesus for the damsel in drugged distress? No matter, the Team at Izo Brands sincerely wishes the lovely Ms. Lohan success in keeping it clean this go-round. Being in the public eye can take quite a toll on even the most privileged, fortunate, and talented minds. In light of her struggles - and in all seriousness - Izo is leveraging its fundraising platform, Groupizo, to group fund a donation to Mercy Ministries, which provides hope and healing to desperate young women seeking freedom from all-consuming problems such as drug and alcohol addictions, depression, and eating disorders, among others.
Through many stints in rehab, several court orders, and even some jail time, Lindsay's celebrity has kept her afloat, providing her with numerous second chances despite behavior that is widely considered as reckless, lacking personal responsibility, and just being a hot mess. Her tabloid and publicity exploits have been an unpredictable mixture of crazy, sympathetic, absurd, and downright hilarious. Gawker ranked her six mugshots over the years from "Ooh Child" to "Damn Girl," in order from least to most disheveled. Perez Hilton and Dlisted have both enjoyed alternately ripping on and rooting for Ms. Lohan throughout her various travails. Even Reuters covered Ms. Lohan's most recent release from rehab, noting that she must now complete a year of court ordered follow-up therapy sessions, in addition to the 90 days of inpatient treatment. Even though it's like, not Lindsay's fault that she's so popular. (Mean Girls, anyone?)
Lindsay's fame has garnered support from fans, friends, and news media alike, but the plight of young women without that kind of media coverage may go unnoticed. That's when Mercy Ministries steps in with a no-cost program serving a diverse population from various socioeconomic backgrounds. Many of the women, ages 13-28, that enter Mercy Ministries' programs face a combination of debilitating circumstances and, like Lindsay, have been to various treatment facilities with unsuccessful long-term results. These programs strive to allow these young women to recognize their self-worth and prepare them to reach their full potential. Mercy Ministries has a four star ranking with Charity Navigator, and a perfect accountability score.
Groupizo is the perfect tool for bringing further awareness to a cause while contributing financially as well. While everyone is rooting for Ms. Lohan to engage in a healthier lifestyle, the struggles of other, young non-celebrity women don't often get much press. Enter: Groupizo! This Groupizo event features men's and women's v-necks in addition to a fine jersey hoodies screen printed with a design inspired by Ms. Lohan's tattoo reading "Breathe". With 100% of the profits from the sale of the Breathe customized apparel goes to helping women seeking freedom from life-controlling problems, while wearing the v-necks and hoodies themselves alerts others to these desperate young women's plight. The multi-product 'create a closet' function, unique to Groupizo, allows fundraisers to offer a breadth of custom items for sale to better attract potential supporters. After all, not everyone who would like to support a cause wants a t-shirt, some people do not wear hats, and others live in places too warm to make use of a hoodie. With Groupizo, it's easy to offer something for everyone. What's better than beating addiction? Looking cute while doing it.
Using Groupizo to raise money for Mercy Ministries or any other nonprofit is simple: after logging in or creating an account, designers create an event. The event creator then customizes a product or products, determines a sales goal and selling price, decides when to begin and end their event, and creates a unique descriptive URL to distribute to their supporters. Individual ordering and shipping options complete the distribution process, removing this onus from the group creator. Free bulk shipping is also available as an option. Groupizo provides the ultimate in user experience customization at every juncture.
About Customizo and Izo Brands:
With Customizo, Groupizo and Snapizo, Izo is knitting the framework for the future of e-commerce with a multi-faceted set of innovative product customization and design tools, a unique group collaboration interface, and mobile media distribution applications. Izo's mission is to be the most customer-centric, creative, and innovative company in the custom apparel and promotional products industries.