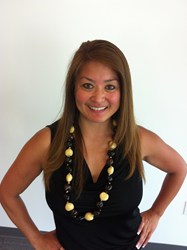 "With her extensive knowledge of the dental market and her experience working one-on-one with dental practices, Tracey will increase our visibility in the industry and enhance our sales strategies." - Kukui President and CEO Ryan Wilmot
San Jose, CA (PRWEB) August 07, 2013
Kukui Corporation, a provider of marketing software solutions, has appointed Tracey Chan National Sales Manager for the company's new Dental Division. In her new role, Chan will lead Kukui's efforts to broaden its penetration in the dental market.
Chan is a 24-year sales veteran with deep roots in the dental industry. She joins Kukui from a leading online marketing and communications software service, where she served as a senior account executive and coached new team members on how to generate leads and manage new territories. She previously worked as a technology sales specialist for dental equipment supplier Henry Schein Dental Inc., earning a top producer award for outstanding sales during her tenure. Her dental experience also includes training dentists on how to use dental practice software.
"We are thrilled to have Tracey join our team," said Kukui President and CEO Ryan Wilmot. "With her extensive knowledge of the dental market and her experience working one-on-one with dental practices, she'll increase our visibility in the industry and enhance our sales strategies."
Kukui's innovative software platform provides dental practices with unique insight into how much business their marketing channels are generating. The platform integrates marketing, communications and analytics functions into a user-friendly subscription service that works seamlessly with a dentist's practice management system.
About Kukui
Founded in 1996, Kukui's online and offline cloud-based marketing and communications platform enables businesses to transform into thriving customer-focused businesses by connecting with their clients, opening new marketing channels and proving marketing ROI with analytics never before available. Based on Kukui's complete, integrated platform, the company's apps and software revolutionize the way a variety of businesses sell, service, market and succeed in today's quickly changing environment.
For more information about Kukui, visit http://www.kukui.com .