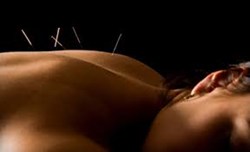 According to Dr. Taghdiri, "Evidence supports the possibility that acupuncture could help thousands suffering from chronic low back pain and sciatica.
Canoga Park, CA (PRWEB) August 06, 2013
101 Family Medical Group is excited to announce the addition of acupuncture therapy to their existing menu of services. To celebrate, the San Fernando Valley medical specialists are offering a limited-time special on acupuncture service. For limited time acupuncture services normally costing $60-100 are being offered for $50 per session.
The practice of acupuncture, according to California Business and Professions Code, is to perform or prescribe the use of acupuncture, oriental massage, acupressure, breathing techniques, exercise, or nutrition, including the incorporation of drugless substances and herbs as dietary supplement to promote health. The other techniques and modalities include the use of electro acupuncture, cupping, and moxibustion.
The two licensed acupuncturists, Dr. Farideh Taghdiri, PhD., and Dr. Mitra Goosheh, PhD., specialize in the following treatments: pain management (any kind), esoteric acupuncture (Gateway to Expanded Healling), allergies/asthma, arthritis/joint problem, constipation/diarrhea, colds/influenza, cough/bronchitis, dizziness, drug/alcohol/smoking addiction, gastrointestinal disorders, diabetes, headache/migraine, heart problem/palpitations, high blood pressure, immune system deficiency, musculoskeletal injuries, paralysis/numbness, sciatica, dermatological restoration and anti-aging, facial rejuvenation, emotional distress, neurological disorders, bell's palsy, women's health: menopause, PMS, infertility, men's health: impotence, weight loss, children's health: A-Z and oncology support.
"We are thrilled to offer our patients the best in modern and traditional Chinese medicine," said Dr. Aazami of 101 Family Medical Group. "This service is a great compliment to the personalized services we offer."
According to the experts at 101 Family Medical Group, acupuncture is an important part of traditional Chinese medicine, a holistic healthcare system that focuses on both preventive and curative care. The use of acupuncture has become more popular in the West as scientific studies have continued to affirm its helpfulness, particularly for the relief of pain. It has been used as a treatment by the U.S. military and is even covered by some private insurance plans, although not by Medicare. The California Legislature recently recommended acupuncture as one of the therapies to be covered by all health insurance plans in the state, beginning in 2014.
Studies have also shown acupuncture to be helpful in treating conditions other than pain, such as easing addiction-related cravings and even causing improvement in patients suffering from psychological or mood disorders, such as post-traumatic stress disorder.
According to Dr. Taghdiri, "Evidence supports the possibility that acupuncture could help thousands suffering from chronic low back pain and sciatica. Safe, effective, and pleasant to experience, acupuncture may be the hidden gem to help you or a loved one discover relief from a chronically-aching low back."
To learn more about acupuncture or to schedule an acupuncture session call us at: 818-3129101 or visit http://www.101FamilyMed.com
About 101 Family Medical Group:
For many years, 101 Family Medical Group has been providing physical therapy, workplace injury treatment, medical weight loss, physical exams for immigration, immunizations, and family primary care in the San Fernando Valley area. The company is known for uniquely meeting the special needs of patients through personalized health plans, and for cultivating a high percentage of referrals and repeat business. To discover what 101 Family Medical Group can do for you, visit http://www.101FamilyMed.com