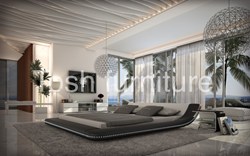 AFG Baby FurnitureAdd a quotable
Los Angeles, CA (PRWEB) August 15, 2013
For more than 25 years, AFG Baby Furniture has raised the bar in safety, style and affordability for today's contemporary parents. It's for these reasons it's an ideal fit with the DA Stores business model. "AFG is consistent in its efforts of ensuring the latest technology is incorporated so that parents are confident in their buying decisions," said a DA Stores spokesperson.
AFG offers both traditional and modern baby cribs, baby beds and convertible cribs with toddler rail backs. They include some of the more popular finishing trends, as well. For new parents, lovely glider chairs with ottomans make a great gift as do the changing dressers.
All of AFG's products are easy to assemble and can be done safely and quickly. Each offering is JPMA Certified. The Consumer Product Safety Commission offers guidelines for consumers shopping for baby furniture and DA Stores makes this information available as well:
Baby cribs, beds and other furniture should be checked periodically to ensure that all parts are secure and in good condition. Check all sides and corners of the crib for disengagement. Any disengagement can create a gap and entrap a child.
If your baby furniture arrives damaged, return it right away; do not try to repair it as it could compromise the safety of your baby. Further, do not use any crib with missing, broken, or loose parts. Tighten hardware from time to time to keep the crib sturdy.
The baby mattress you choose should fit the dimensions of the crib exactly.
If you can fit two fingers between the mattress and the crib frame, the mattress is too small, and therefore unsafe for baby.
DA Stores is proud to partner with such a socially responsible manufacturer and company management invites consumers to see the inventory on its website at modernfurniturewarehouse.com