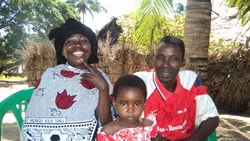 This is one of the world's best examples so far of what can be achieved at low cost to improve the health of children in high-mortality, low-resource settings.
Phoenix, AZ (PRWEB) August 07, 2013
The Center for High Impact Philanthropy at University of Pennsylvania has endorsed Food for the Hungry's (FH) Care Group model as a high-impact, low-cost solution to child malnutrition and illness. Undernutrition is the single largest contributor to childhood illness and death worldwide.
The Care Group model draws on the power of community-level volunteers or "Leader Mothers" who teach their peers—other local mothers—how to improve the health of young children. The model brings large and rapid health and nutrition changes at low cost in low resource settings.
The Center's case study showed how FH's Care Groups in Mozambique achieved an estimated 30 percent decrease in under-age-5 mortality over five years. The estimated cost per child life saved was less than $500. The cost is one-third that of more traditional child survival models.
In addition to saving children's lives, Leader Mothers grew in confidence and a sense of empowerment. When surveyed, all Leader Mothers reported that they were more respected by other women in their community, and 61 percent reported feeling more respected by their husbands.
"Care Groups are about the power of social networks," said Tom Davis, FH Chief Program Officer. "Instead of looking at a society and seeing what they lack, we see what they have—community and relationships. Then we leverage the relational capital to teach parents how to adopt behaviors needed to save lives."
The March 2013 issue of the peer-reviewed journal Global Health: Science and Practice also highlighted FH's child survival work, examining results from a Mozambique Care Group.
Echa, a mother from Mozambique's Cabo Delgado province, experienced the power of Care Groups. She says that she did not think her daughter, Rehema, would make it to her third birthday. At 19 months, Rehema weighed only 20 pounds. She should have weighed 25 pounds. She was malnourished and had a weak immune system.
The Leader Mother who led the local FH Care Group counseled Echa on nutrition. "During these meetings we discussed different ways to add vital nutrients and minerals to local dishes and recipes," said Echa. "We also were taught lessons on infant care and how to prevent and detect danger signs during childhood illnesses." Rehema steadily gained weight. By her third birthday she was no longer underweight and was thriving.
Speaking of FH's program in Mozambique, Dr. Henry Perry, Senior Associate at Johns Hopkins Bloomberg School of Health, said, "This is one of the world's best examples so far of what can be achieved at low cost to improve the health of children in high-mortality, low-resource settings."
The model was originally developed by World Relief, and then pioneered by World Relief and FH. Tom Davis has led scale-up of the model.
Founded in 1971, Food for the Hungry provides emergency relief and long-term development programs with operations in more than 20 countries to help the world's most vulnerable people. Learn more by visiting http://www.fh.org. Social connections include Facebook and Twitter.