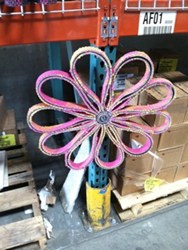 Denver, Colo. (PRWEB) August 07, 2013
ZeroLandfill Denver is hosting a unique recycling event called Harvest Days, which allows the public to shop for free design materials they can use to improve their homes, create art or provide their students with unique art supplies. ZeroLandfill Denver serves as a way for the local interior design industry to recycle expired samples such as fabric, carpet, laminates and wallcovering.
Artists, teachers and DIYers are regulars at the Denver ZeroLandfill Harvest Days where new or gently used materials collected by interior designers and architects are available for free.
The Harvest Days events are on August 23 and September 6 from 3-6 p.m. at the Design Materials warehouse located at 10498 East 49th Avenue in Denver. More information is available on Facebook at ZeroLandfill Denver.
"ZeroLandfill is an important materials resource for under-funded art teachers and community programs," said Emily Odell, a ZeroLandFill Denver volunteer and the owner of OrganizedCorp. "We hear from teachers from across the country who have been able to expand their classroom projects due to the diversity of materials they source at these events."
Jeni O'Brien from Mountain Trade Supply confirms the importance of keeping viable creative materials out of local landfills and bolstering the creative process in schools and studios. "We've had a long-standing commitment to sustainability practices in our facility. Participating in ZeroLandfill events takes that commitment one step further by actively supporting artists and art students while keeping materials out of the waste stream. Beyond business partners, we are friends who appreciate the value of these materials and repurposing them to create beautiful art."
Nationally, ZeroLandfill recently achieved an important milestone by re-purposing its one-millionth pound of expired samples donated by the interior design profession. There are more than 20 markets nationally hosting annual or biannual reuse events.