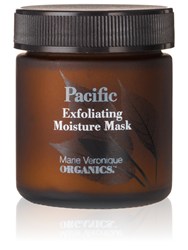 Gives you back that youthful glow by exfoliating, conditioning and brightening your skin--like a spa in a jar.
Mill Valley, CA (PRWEB) August 08, 2013
Skincare leader Marie Veronique Organics launches an entirely new product category with Pacific Exfoliating Moisture Mask. Lactic acid gently brightens and removes dead skin cells, while rich avocado butter replenishes fatty acids and astaxanthin delivers potent reparative antioxidants. The mask retails for $95 for a 1.7 oz container and will be available on http://www.mvorganics.com, as well as at all Auberge resorts, beginning July 1, 2013.
As part of Marie Veronique Organics' results-driven Pacific line, the mask is a key component in an effective anti-aging regimen. Lactic acid not only exfoliates, but stimulates production of ceramides and hyaluronic acid in the skin, which begin to diminish with age. Ceramides and hyaluronic acid prevent moisture loss and increase cell renewal, helping the skin to naturally shed dead skin cells.
Enzymes in lactic acid, as well as solanum tuberosum from potatoes, lighten dark spots and inhibit the release of melanin. Avocado butter leaves newly exposed skin soft and supple, with the help of vitamins A, B1, B2, D, and E; protein, pantothenic acid, and essential fatty acids.
Finally, astaxanthin from Hawaiin red pond algae, considered the most powerful antioxidant on record, provides anti-aging support by repairing free radical damage. The smooth, gel-like formulation is easily applied, and only needs 2-5 minutes on the skin for optimum results.
Marie Veronique Organics feels that bright, smooth skin can be achieved without the use of harsh glycolic acid (found in many traditional exfoliating peels), or skin lighteners like hydroquinone (a potential carcinogen).
As with all Marie Veronique Organics products, the mask doesn't contain any parabens, phthalates, petrochemicals, waxes, dyes, fragrances, preservatives, or alcohol. "We believe that this is the best exfoliating treatment on the market right now – natural or synthetic – and we're thrilled to offer a superior product without the use of potentially dangerous ingredients and additives," says Hillary Peterson, CEO of Marie Veronique Organics.
ABOUT MARIE VERONIQUE ORGANICS: As a former chemistry teacher, Marie developed Marie Veronique Organics with her daughter, biomedical engineer Dr. Jay Nadeau. Marie's goal was to create a skincare line that would allow her to age gracefully and naturally. "We are honored to provide you with the smartest anti-aging products on the market. We have a deep scientific understanding of the aging process and we look to nature to provide ingredients that will nourish the skin to aid in slowing down the aging process", says Marie. Marie Veronique
Organics operates responsibly and sustainably, sourcing fair trade, organic, and/or locally
grown whenever possible, and using biodegradable products, labels, and easily recyclable
packaging. Ten percent of company profits are donated annually to non-profits dedicated to
supporting the environment and creating better opportunities for women and children in Third
World countries. Marie Veronique Organics' award-winning facials are available in select spas,
including:
-Solage– voted #1 spa in the Americas and Caribbean by Conde Nast Traveler readers.
-The Inn at Palmetto Bluff – recognized by Travel + Leisure as the #1 spa in the U.S.
-Esperanza – recognized by Travel + Leisure as the #1 spa in Mexico.

Auberge de Soleil – voted #1 hotel in Northern California and #18 in the world by Conde Nast Traveler readers
Calistoga Ranch – voted #1 hotel in California and #5 in the nation by U.S. News & World
Report