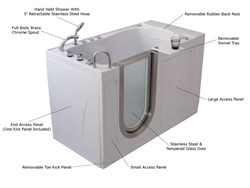 Introducing acrylic walk in bathtubs with warm air hydrotherapy!
Miami, FL (PRWEB) August 07, 2013
Online elderly bathtubs and ADA shower supplier, Aging Safely announces they will now offer premium high grade acrylic walk in tubs. These quality bathing appliances come standard with deluxe roman faucet sets, handheld shower, drain, over flow and an extension kit. Customers also have the option to add luxury features such as soothing colored mood lighting, warm air hydrotherapy, invigorating water whirlpool jets and aromatherapy.
Some of the models offered by Aging Safely also have internal backrest heaters that may assist in keeping the bather warm while the bathtub fills and drains. There are several safety features that are designed into these unique bathtubs may potentially help minimize the odds of a dangerous accident from occurring. Several models have textured flooring, temperature control valves, ADA grab bars and built in seats. The bathtubs can also come with padded seat cushions which may help he bather raise out of their seat more easily and provide additional comfort.
There's no perfect solution to bathroom safety, however bathers can take advantage of the many useful technologies available. Step in tubs, ADA compliant wheelchair access showers and grab bars might help some bathers increase their independence and add a sense of security while cleaning the body.
Bathing is an essential component to good hygiene. Pretty much everyone needs and wants to take a bath. Unfortunately, not all people can just hop right into the bathtub or shower. In some cases, people have an extreme fear of falling while bathing or may not be able to enter a bathtub alone at all. These fears ultimately are justified. Statistically, people fall in bathtub several times a year all over the world. The elderly and bathers with disabilities can especially be prone to having difficulty entering traditional high wall bathtubs.
This specialty online store makes it easy for shoppers to order ADA showers and step in tub products from their computer. According to the company, the website is full of useful information on ADA shower stalls and hydrotherapy walk in tubs. Visitors can download schematics, measurements, warranty information and printable pictures that show close up details of the tubs.
Handicap bathing products can be installed into most commercial or residential locations. Most of the products offered can fit into a traditional 30" x 60" area. Shoppers that are looking for more compact or oversize elderly bathtubs will also find a large selection to choose from.
Several of the showers supplied by the company can be installed flush with the flooring. This makes wheelchair accessibility more feasible and provides a smooth transition for the disabled bather. It is important to be aware, the shower base pan is concave and will help minimize water from escaping the shower. Furthermore customers have the option to include a padded or wood seat or not. Shoppers that have further questions regarding the company's product line are encouraged to contact a representative for a consultation.
Contact Information:
Zachary Wennstedt
720-495-5497
info(at)walkbathtubs(dot)com
http://www.walkbathtubs.com